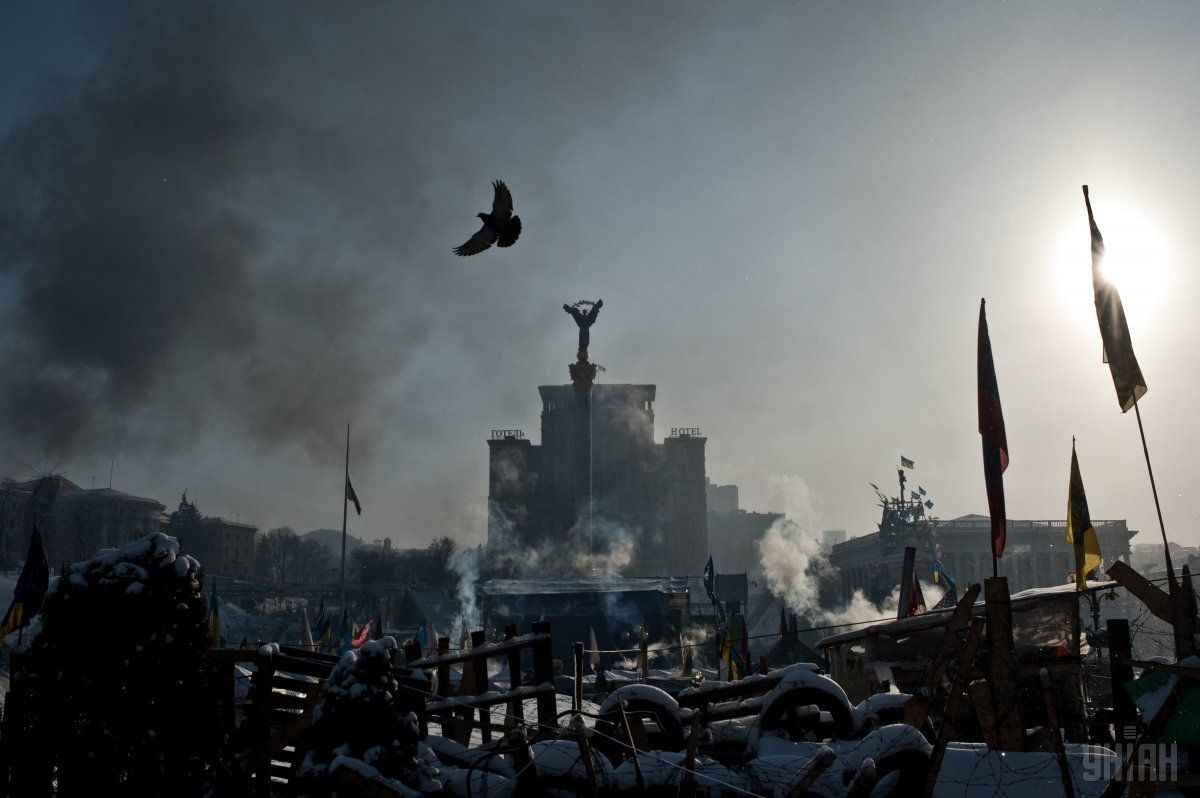 Photo from UNIAN
It is reported that Holovko represented the state as a prosecutor in cases of Maidan activists Roman Tysovsky and Eduard Kryzhanivskiy. "The trials went impressively fast. It was probably just up to 90 seconds before people left the courtroom. Everyone was handed down a template ruling and escorted to Lukyanivka [pre-trial detention facility], Kryzhanivsky recalls.
The prosecutor's wife, Alina Holovko, who also happens to be his colleague, also spoke in court against activists of the Revolution of Dignity. Among the activists she required that the court remand in custody was a 72-year-old Mykola Pasechnyk, the one who was badly beaten and detained by riot police on January 22, 2014, and whose photos showing him, with his head bloodied, being dragged away by police, went viral at the time.
litera.co.ua
On January 25, Ms Holovko requested that the court rule to arrest another activist, Vasyl Slyvynsky.
The journalistic investigation notes a peculiar detail – mentioned prosecutors' motions in relation to said activists are for some reason missing from the Unified Registry of Court Decisions.  
To their astonishment, journalists revealed that Pavlo Holovko has been appointed a senior investigator at the PGO's special investigations department deals with investigations of crimes against the Maidan and the Revolution of Dignity.
Read alsoBBC Monitoring analysts say "Italian sniper" claims about Ukraine's Maidan doubtfulAt the same time, in a so-called "dignity application", Holovko stated that he had not committed actions that could have compromised him or the prosecutor's office in general, and that would have cast doubt on his objectivity and independence. Alina Holovko also filed such application. At present, she is employed by a prosecutor's office No. 6 in Kyiv's Pechersky district.
Commenting on an apparently absurd move to make part of the high-profile investigation team an official who could theoretically be among the targets of their probes, Head of the Special Investigation Department of the PGO Serhiy Horbatiuk claimed he had limited influence on the selection of personnel for said unit, adding that it's the local offices that provide their nominees for the job at the PGO request. At the same time, he has noted that does not deny responsibility for the fact that Holovko has been appointed.
Read alsoEuromaidan's anniversary: The Revolution of Dignity in flashback (Photo, video)Also, the journalists revealed inconsistencies between the prosecutorial couple's official income and their property, namely real estate.
Both Pavlo and Alina Holovko turned down requests to provide a comment on their asset declarations and cases against the activists of the Revolution of Dignity.