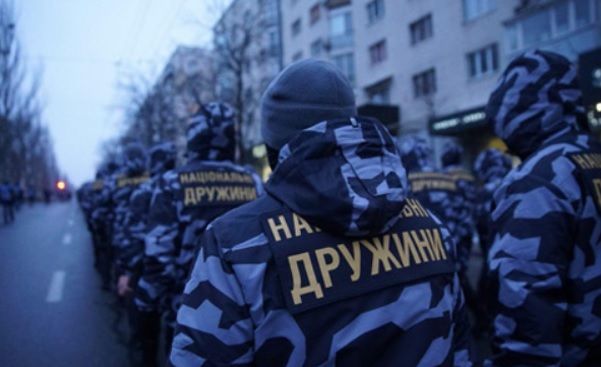 Natsionalni Druzhyny ('National Militia Units') or public order squads / Photo from open sources
Ukraine's Ministry of Internal Affairs has elaborated on duties of newly created Natsionalni Druzhyny ('National Militia Units') public order squads.
Adviser to the Interior Minister Ivan Varchenko says that the legislation of Ukraine foresees the registration of public organizations that provide assistance to law enforcement agencies in protecting public order and the state border, but such activity should be coordinated with law enforcers, according to Hromadske Radio.
Read alsoPolice deny current crime rate in Ukraine as in raging 1990s"Members of such organizations have the right to maintain public order jointly with officers of the National Police or the National Guard. The situation when such organizations want to get involved in this process is absolutely legal. They have the right to do this, but only together with members of the National Police respectively to what they have agreed, how and where they will work together, for example, in patrolling the streets or pulling duty," he explained.
According to the adviser, the squads have the same rights and duties as any other citizen in Ukraine.
Varchenko explains that everyone has the right to monitor how the rule of law is observed by other people. However, citizens cannot perform a significant scope of functions that only police officers are entitled to.
Namely, citizens without police authority do not have the right to demand that other citizens show their identification documents. "In order to fully protect public order, it is necessary to work together with the National Police, who have the power to check citizens' identity, inspect things, or stop a car," the adviser said.
The National Corps Political Party on Sunday, January 28, conducted an oath-taking ceremony for members of in NGO National Militia Units, which should patrol the streets and counter illegal drugs and alcohol trafficking. About 600 participants took part in the event.
National Corps is a Ukrainian far-right political party founded in 2016, and led by Andriy Biletsky, who is a Ukrainian Member of Parliament and a Lieutenant Colonel of police.