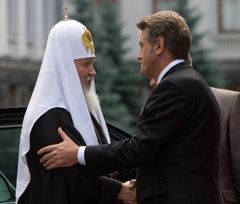 President of Ukraine Victor Yushchenko says that one of the intentions of Ukrainian people is creation of the united local Orthodox Church.
According to an UNIAN correspondent, he said this after the wreath-laying ceremony to the monument of victims of the Holodomor of 1932-1933 with Patriarch Kirill, the head of the Russian Orthodox Church.
V. Yushchenko noted that the visit of the head of  Russian Orthodox Church to Ukraine is very important for Ukraine.
He underlined that the visit of Patriarch Kirill is only ecclesiastical and pastoral.
The vyshyvanka in Poltava style was presented to Patriarch Kirill from the President of Ukraine.