Moscow smog reached Kyiv?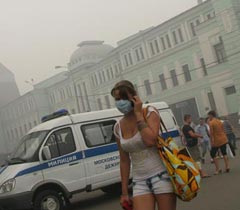 Today morning Kyiv was shrouded with smoke. The Emergency Ministry found it difficult to specify the reasons for smoke, according to LIGABusinessInform .  According to the words of assistant of the chairman of a shift of the Emergency Ministry Serhiy Nykricha, the square of peatbogs burning near Kyiv does not exceed 1 hectare and it could not have such an effect.
"Probably, the smog of fire near Moscow reached us", he noted.
If you see a spelling error on our site, select it and press Ctrl+Enter