Yushchenko raised his glass to Ukraine
At the solemn reception on occasion of the 16th anniversary of the Independent Ukraine, which took place in St.Sophia Cathedral, President of Ukraine Victor Yushchenko raised his glass for Ukraine and the Ukrainian nation.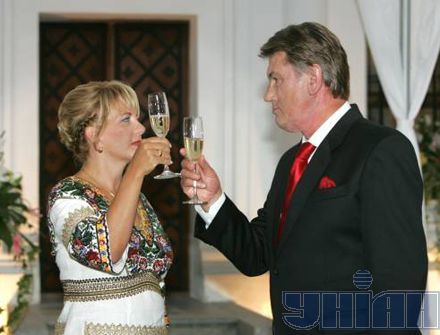 "I want to raise this glass for a prosperous, wealthy Ukraine in the circle of equal European and world countries", the President stressed.
Victor Yushchenko thanked every Ukrainian, making a contribution into developing the state of Ukraine. "I'm grateful to the big nation for wisdom, labor, and belief in their own perspective", he said.
More than a thousand guests were present at the reception, including representatives of the diplomatic corps, accredited in Ukraine, leaders of different confessions, state officials, lawmakers, governors, cultural figures, journalists.
Photos by Mykola Lazarenko/UNIAN
If you see a spelling error on our site, select it and press Ctrl+Enter