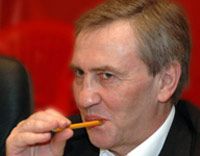 Kyiv City Council at the session on October 25 approved new Rules on keeping domestic dogs and cats in Kyiv. By this rules Kyiv City Council bound owners of potentially insecure dogs together with their dogs to come through tests on "Dog – companion" program in order to prove the adoption of pets to the conditions of the city.
According to the text of Kyiv Council, besides the Range of breeds of dogs, which defined as potentially insecure, the Provisions about rules of mentioned test are approved there.
Moreover, owners of such dogs have to come though obligatory insurance of responsibility for the harm, which can be done to third people.
It is said in the New Rules that if potentially insecure or recognized to be insecure dog was not able to come through  the test  on the "Dog – companion" program in fixed time, owner has to isolate such animal or pass it for the protection of building objects, private houses ect.
Among the breeds of dogs, which Kyiv Council defined to be potentially insecure, are 30 following dogs: Akita Inu, American bulldog, American Staffordshire Terrier, English mastiff, Argentinean Great Dane, Belgian sheep dog, Bern Zennenhund, Dogue de Bordeaux, Brazilian Fila, bullmastiff, bull terrier, dobermann, Caucasian sheep dog, kane korso dog, mastino neopolitano, Moscow watchdog, German sheep dog, German Great Dane, pero presa canario, south Russian sheep dog, pit bull terrier, giant schnauzer, Rhodesian ridgeback, Rottweiler, Central Asiatic sheep dog, Tosa Inu dogs, black terrier, German boxer, wire-haired fox terrier, yag terrier German dog. At the same time it is said in the decision that the range of the breeds is renewed with new data.
According to the obligatory testing on the "Dog – companion" program, it will be carried out by the communal enterprise "Animals Identification Center", which creates the commission from the judge (instructor - dog expert), leading specialist of accounting and Center registration department and secretary. By the corresponding Provision it is defined the range of rules of coming through testing and grades accrual system for some exercises, which are necessary to get in order to come through test.
At the same time, dog's owners, who "successfully came through the interview on competence or those, who presented official confirmation of their competence" can have an access for this test. Accordingly, the Rules include "Test on competence for dog's owners", which consists of more than 30 questions concerning registration order of animals in Kyiv, dogs diseases or "How do you thing what is provoked aggression and unprovoked aggression?".