Yushchenko won by Basescu with score 3:0
Romanian newspaper wrote that Yushchenko won by Basescu with score 3:0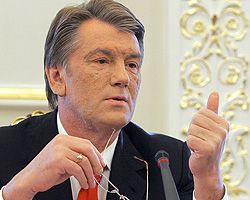 President of Ukraine Victor Yushchenko says that his visit to Romania on October 30-31 is very successful.
 According to an UNIAN correspondent, V. Yushchenko underlined at the news conference for Ukrainian journalist in Bucharest that he is not agree with the headline of one of leading Romanian newspapers "Ziua" (Day),  in which  it is stressed that V. Yushchenko won the negotiations  with President of Romania Trojan Basescu with the score 3:0.
"I did not come there with his task. I am sure that we want to have friends and stable partners here", said the President.
He noted that the aim of his visit was, firstly, to separate maximally and  considerably to solve those problems, which were inherited from the previous times and prevent the joint movement ahead. Secondly, the task was to define the way of bilateral relations development.
Touching upon main topics of the negotiations, particularly concerning "Danube – Black Sea" channel girla Bistroe, V. Yushchenko noted that from one side, there is a lot of politics in this issue and from other side there is no dialogue.
V. Yushchenko said again about his position, that Bistroe channel is the sovereign territory of Ukraine and Ukraine follows all international obligations, including the ecological, concerning this channel.
Speaking about the Krivorizhskyi ore-dressing and processing enterprise of oxidizing ores, V. Yushchenko noted that this topic is important, that the serious business – interest appeared during the recent half a year concerning the possibility of finishing building of this factory.
The president said that during the negotiation much attention was paid to the issues concerning the minority groups. He said about the arrangement with T. Basescu to exchange the letters, in which the existing problems of the minority groups in both countries will be defined.
According to his words, they also discussed the issues concerning the delimitation of borders and shelf of the Black Sea.
If you see a spelling error on our site, select it and press Ctrl+Enter