Ukraine has not defined yet its position concerning status of Kosovo – Yushchenko
Victor Yushchenko instructed the Foreign Minister of Ukraine to carry out the bilateral consultations with the strategical partners of Ukraine – EU, Russia, the USA and others in order to come close to the making the decision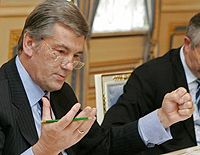 Ukraine has not defined its position concerning the status of Kosovo.
According to an UNIAN correspondent, President of Ukraine said this in Dnipropetrovsk.
He said that he instructed the Foreign Minister of Ukraine to carry out the bilateral consultations with the strategical partners of Ukraine – EU, Russia, the USA and others in order to come close to the making the decision.
V. Yushchenko noted that, according to the opinion of Ukraine, not all possibilities are exhausted for the negotiation process concerning this issue.
He underlined that the decision of Security Council of UN, position of OSCE and European Union are very important for Ukraine.
At the same time the head of the state underlined that Ukraine will come to making its decision concerning the status of Kosovo not as for the precedent concerning other frozen conflicts.
If you see a spelling error on our site, select it and press Ctrl+Enter