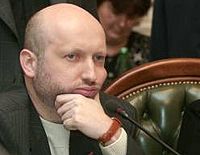 First Vice Prime Minister of Ukraine Oleksandr Turchynov said that Ukraine completely repaid debt before Russia for the natural gas, consumed in 2006-2007.
According to an UNIAN correspondent, O. Turchynov said this at the session of the Cabinet of Ministers today.
First Vice Prime Minister underlined that Ukraine repaid debt by "ready money" and showed to the members of the government and journalists the financial orders, certified by bank seals.
"The debt of 5.2 billion hrn was practically closed by real money and dividends, which Naftohaz Ukrainy NJSC received for 2006", he noted.
The first Vice Prime Minister also said that the debt in sum of 414-mln hrn, which is not recognized by the Ukrainian side - neither by the Cabinet of Ministers nor Naftohaz Ukrainy NJSC, - is disputed in the courts. According to his words, these means "were credited by a fraudulent way for the gas, consumed in 2006, at the price of 2007".
"We hope that the courts and the law enforcement agencies will put the full stop in this issue and those frauds, who tried to improve their conditions in this way at the expense of the budget resources, will answer for this", said Turchynov.