The total number of confirmed cases in Ukraine is 80,949 / Photo from UNIAN
Some 1,199 new COVID-19 cases were confirmed in Ukraine in the past 24 hours as of August 9, 2020.
The total number of confirmed cases grew to 80,949, according to the interactive map of the National Security and Defense Council of Ukraine.
Read alsoUkraine reports another record spike in COVID-19 cases on Aug 8
The following areas are in the lead by number of confirmed cases: Lviv region (10,851), the city of Kyiv (9,498), Rivne region (6,840), Chernivtsi region (6,669), and Zakarpattia (5,765).
The death toll was 1,897, including 18 patients who died in the past 24 hours.
Since the beginning of the coronavirus epidemic, 43,972 people have recovered (+317 in the past day). There are 136,065 suspected cases.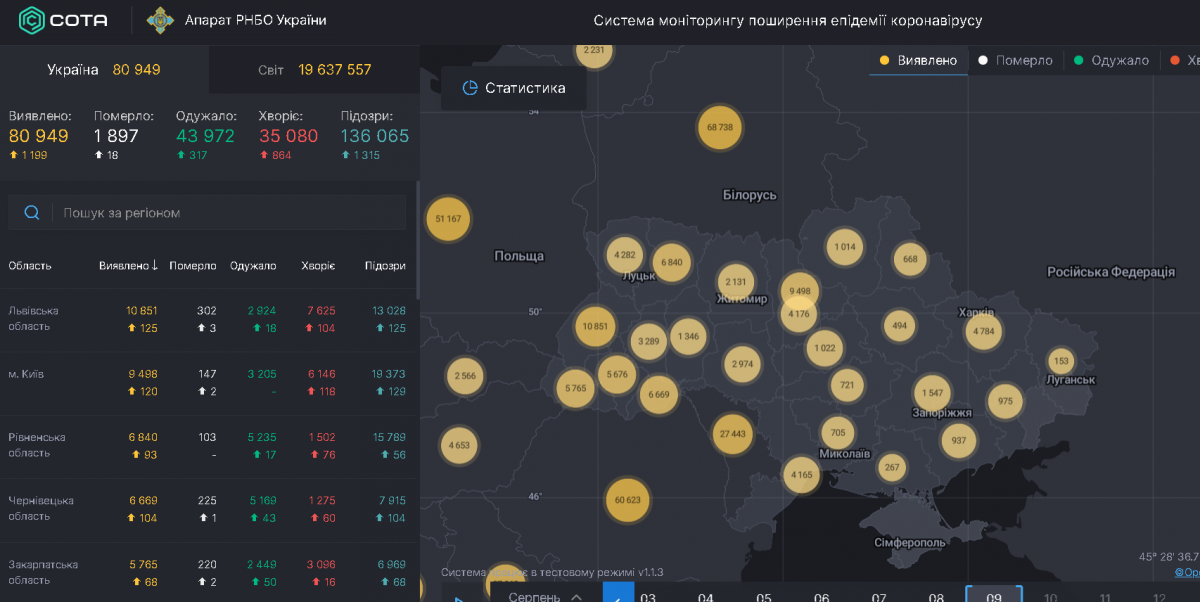 Screen from covid19.rnbo.gov.ua
Ukraine's Health Ministry says that the epidemiological situation does not allow the local authorities to ease quarantine-related restrictions in the city of Kyiv, as well as in Volyn region, Ivano-Frankivsk region, Kyiv region, Odesa region, Rivne region, Kharkiv region, Chernivtsi region, and Chernihiv region.