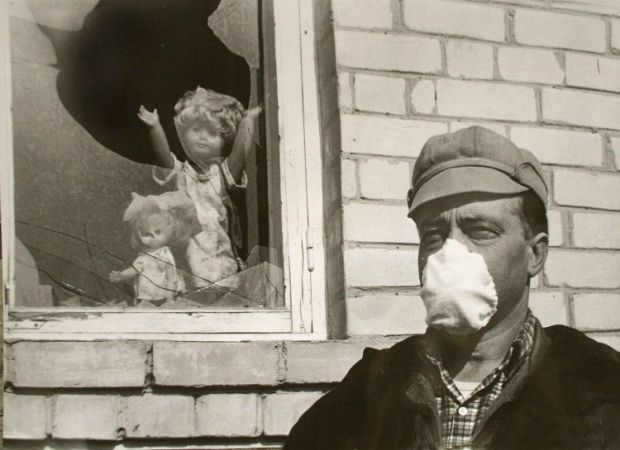 Photo from Chornobyl Chronicle
Ukrainian President Volodymyr Zelensky has compared the fight against the coronavirus (COVID-19) spread across the country with an operation to eliminate consequences of the disaster at the Chornobyl nuclear power plant in 1986.
Read alsoHealth minister lists top Ukrainian regions in lead by new COVID-19 casesThe comment came during his working visit to Ukraine's Khmelnytsky region, an UNIAN correspondent reported on September 9.
"We have to act as a team when facing COVID-19 [challenges], which is not limited to one or another region ... For example, Odesa region or Kharkiv. Earlier, there were no COVID-19 patients at all in Odesa region, as well as in Kharkiv region. Let's reopen the subway, let it operate, everything will be fine – people supported [the idea], people went outdoors. Yes, let it be. And why are Odesa and Kharkiv [regions] in the lead in terms of the number of patients now? These were the regions where there were no such patients. What is happening now? Why are 100, 200 [new COVID-19 cases] reported," he said.
Zelensky says in most countries where there are beaches people wear protective face masks.
"I don't know how it works – I'm not a doctor, although we all have become doctors in recent months. But for some reason, this works worldwide," he said. "But we are 'different' – we are 'free, democratic' people, and we can do anything. How do we arrange more beds in hospitals? More doctors? Where do we get all this? Who is to be responsible for all this?" the president stressed.
"I think that when the Chornobyl disaster happened – sorry for such a comparison, did anyone then mention any obligations? All people got united then, all just wanted to save [other] people's lives. I believe the COVID-19 issue is the same thing. Look at the number of people [tested positive] – this is the same tragedy, yes – it's different, yes – it's a virus," he said.
According to Zelensky, no one still knows when the coronavirus vaccine will be available and when Ukraine is to get it. So, he says, everyone should think not only about themselves, but also about those beside them.
"'Come to a cafe,' they say, while the authorities tell them; 'No, you need to keep distance.' When you eat in a cafe, of course, you do it without a mask. Well, one may arrange a wedding party, but not with 100 people invited to a restaurant? To tell the truth – this is stunning," he added.
Quarantine in Ukraine: Background
The adaptive quarantine was introduced on August 1.
The Ukrainian regions were split into the green, yellow, orange, and red zones depending on hospital bed occupancy, the average number of PCR and ELISA tests, the ascertainment rate of COVID-19, and daily spread dynamics.
Quarantine-related curbs differ in each zone. The mildest ones are in the green zone, the regions included in the red zone will have to introduce the toughest restrictions.
Updated quarantine zoning became effective in Ukraine on August 17. Kyiv became part of the yellow zone.
On August 26, the Cabinet of Ministers extended the adaptive quarantine until November 1.
On September 3, the government reviewed the list of quarantine zones, expanding the red zone.
The Ukrainian Health Ministry on September 7 updated its protocol for patients with suspected coronavirus.