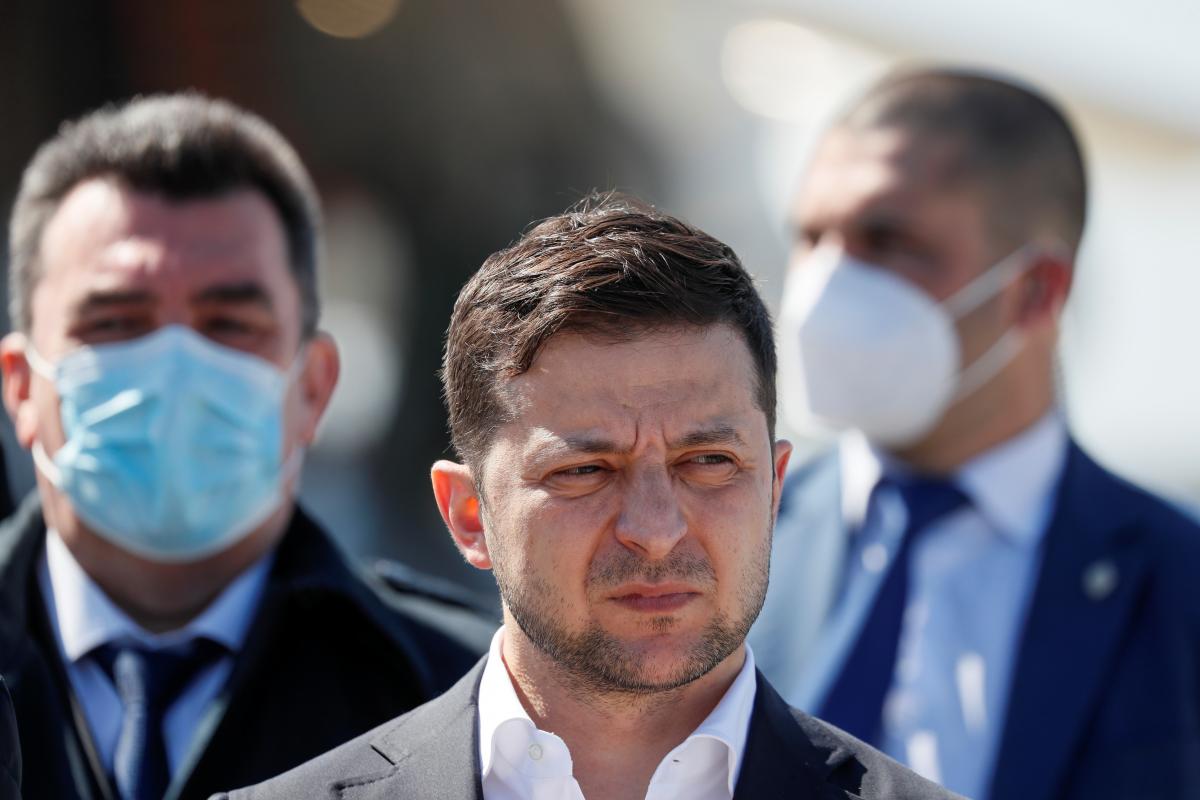 Zelensky says the governors may be stripped of their posts if COVID-19 doctors don't get increased fees / REUTERS
Ukrainian President Volodymyr Zelensky has instructed Health Minister Maksym Stepanov and chairmen of regional state administrations across the country to immediately pay a 300% increase in salaries to doctors working on the front lines of the COVID-19 crisis.
"President Zelensky held a conference call with Prime Minister Denys Shmyhal, Heads of Regional State Administrations, Health Minister Maksym Stepanov, and First Deputy Head of the President's Office Serhiy Trofimov on the payment of supplements to doctors who work directly with patients infected with COVID-19," the presidential press service said on May 12.
Read alsoUkraine gov't allocates almost US$586 mln to hospitals for treating COVID-19 patients – health minister
In particular, they discussed a legal conflict over the payment of supplements for March. Therefore, many regions were guided by a year 2003 order of the Social Policy Ministry, according to which supplements were calculated for hourly work. Payments for April are made according to a different formula – through signed agreements with the National Health Service of Ukraine, the press service said. To this end, emergency medical services, hub hospitals, in-patient facilities helping combat COVID-19, and mobile crews visiting patients must conclude agreements with the National Health Service of Ukraine.
"The share of concluded agreements in all four categories is currently small. And without this, it will be impossible to pay rates increased by up to 300%. Although the doctors on the front line have fully deserved it," Zelensky said.
The president instructed the health minister and the governors to discuss ways to remove the obstacles to handling the additional payments.
"Because of bureaucratic red tape, we wasted time, doctors received salaries without additional payments. This needs to be fixed. I am glad that we all understand each other and are ready to cooperate to resolve this issue," Shmyhal told the heads of the regional administrations.
As UNIAN reported earlier, on April 13, Ukraine's parliament amended the 2020 budget by allocating funds for the fight against the coronavirus epidemic in the country.
On April 14, Stepanov said that the funds would be spent on doctors' pay rise, the purchase of medical equipment and medicines used to treat COVID-19 patients.
On April 24, Ukraine's government endorsed a decision to increase by 300% the payments for healthcare workers involved in the treatment of coronavirus patients.
At a government meeting on May 6, the health minister accused the governors of the failure to handle additional payments in the healthcare sector, as budget subsidies worth UAH 905 million (US$33.78 million) were wired to the regions in March while the sum due to be paid to 5,435 healthcare workers was UAH 181.661 million (US$6.78 million). According to Stepanov, the local authorities started to look for ways not to pay the funds and referred to a Social Policy Ministry order dated 2003, under which doctors should be paid only for hourly work.
Yet, only Poltava region managed to handle all increased payments to COVID-19 doctors.
On May 6, Zelensky said that the governors might be stripped of their salaries or even posts if the additional fees were not paid to the healthcare workers.