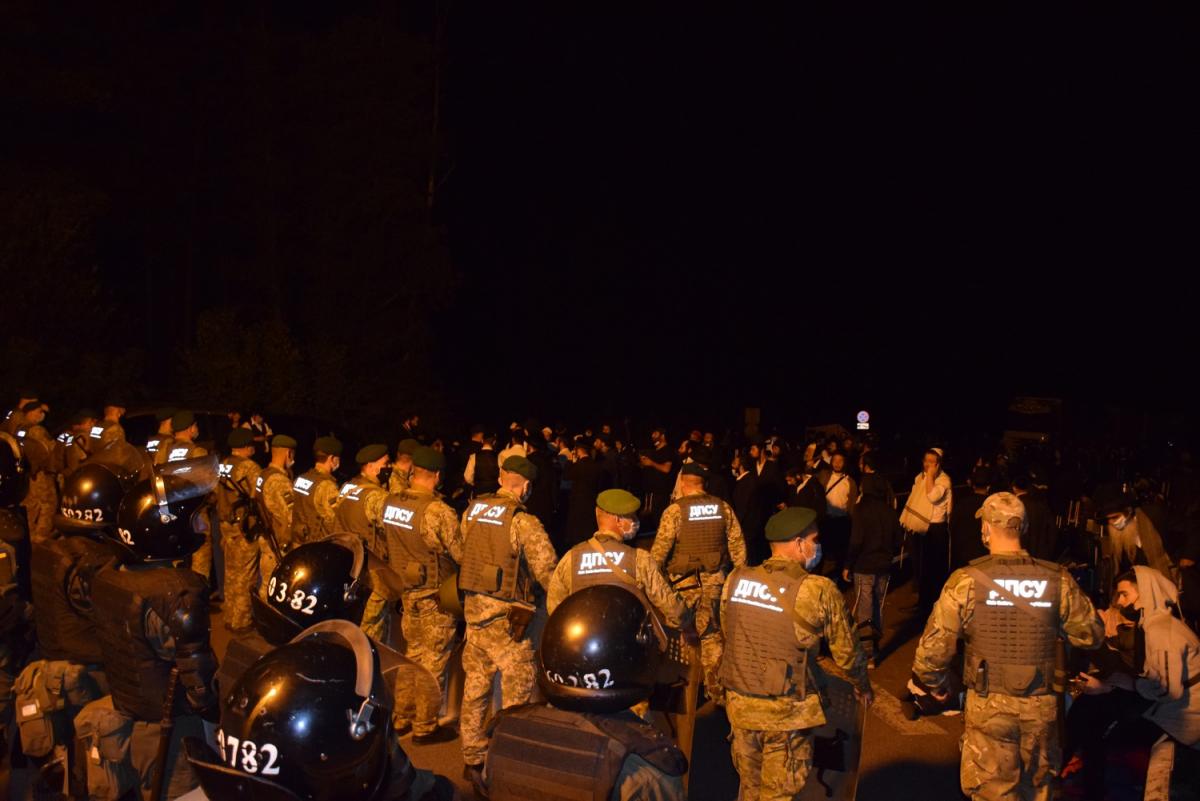 dpsu.gov.ua
The State Border Guard Service of Ukraine (SBGSU) says that despite entry ban to foreigners the government has imposed earlier until September 28, several hundred Hasidim have been trying to cross in from Belarus since Monday evening.
As of the morning of September 15, the group has not ceased attempts to enter through the Novi Yarylovychi checkpoint in Chernihiv region, remaining in a neutral zone between the Ukrainian and Belarusian checkpoints, the agency's press service says.
Head of the State Border Guard Service of Ukraine Serhii Deineko met with the group's representatives and brought to their attention the requirements of the government's resolution restricting entry to foreigners.
Read alsoUJCU condemned the actions of the pilgrims who caused disorder at the grave of Rabbi Nachman in Uman (Video)The statement says local border guard units have been reinforced and coordination with National Police and National Guard has been updated. The State Emergency Service stands ready to respond if necessary.
Hasidim pilgrims have in fact blocked the checkpoint, the Ukrainian TSN TV news service said on September 15.
"Jews from different countries were heading to Uman to mark their New Year – Rosh Hashanah. Celebrations begin this Friday, but the Ukrainian government restricted the entry of foreigners into the country in August due to the coronavirus pandemic. So the Hasidim couldn't cross in. They occupied the entire roadway in front of the checkpoint. Even the head of the border service could not persuade them to head back. In the evening, food was provided to them. They greeted the move with songs and dances. However, pilgrims have no intention to leave the border zone yet," the press service added.
Hasidic pilgrimage to Uman
Every year, Hasidic Jews travel to the town of Uman to visit a Jewish cemetery, where Reb Nachman of Bratslav (1772-1810), the founder of the Breslov Hasidic movement, is buried. His grave is one of the most revered shrines of Hasidim, being the place of annual mass pilgrimage.
Pilgrims believe that whoever celebrates the Jewish New Year in Uman will be happy all year long.
In 2019, more than 30,000 pilgrims came to the town to celebrate the 5780th Jewish New Year. This year, Rosh Hashanah will begin on September 18.
Entry ban amid COVID-19 surge
On August 26, 2020, the Cabinet extended the adaptive quarantine across Ukraine until November 1.
Then the government imposed a temporary entry ban for foreigners from August 29 until September 28, with a number of exemptions for certain categories of foreign nationals.
Late on Thursday, August 27, the Cabinet declared that borders would be shut a day early, from midnight on August 28.