Photo from UNIAN
Ukraine on October 14 is celebrating Defenders Day.
The date is an official day-off in the country.
Read alsoUkrainian naval intel officers hold training on British destroyer (Photo)Defenders Day became a state holiday in 2014 amid decommunization spree and against Russia's armed aggression against Ukraine.
Ukrainian President Volodymyr Zelensky today honored the memory of the soldiers who have sacrificed their lives fighting for the country's independence.
The head of state laid flowers at the Wall of Memory at Kyiv's Mykhailivska Square, the President's Office reported.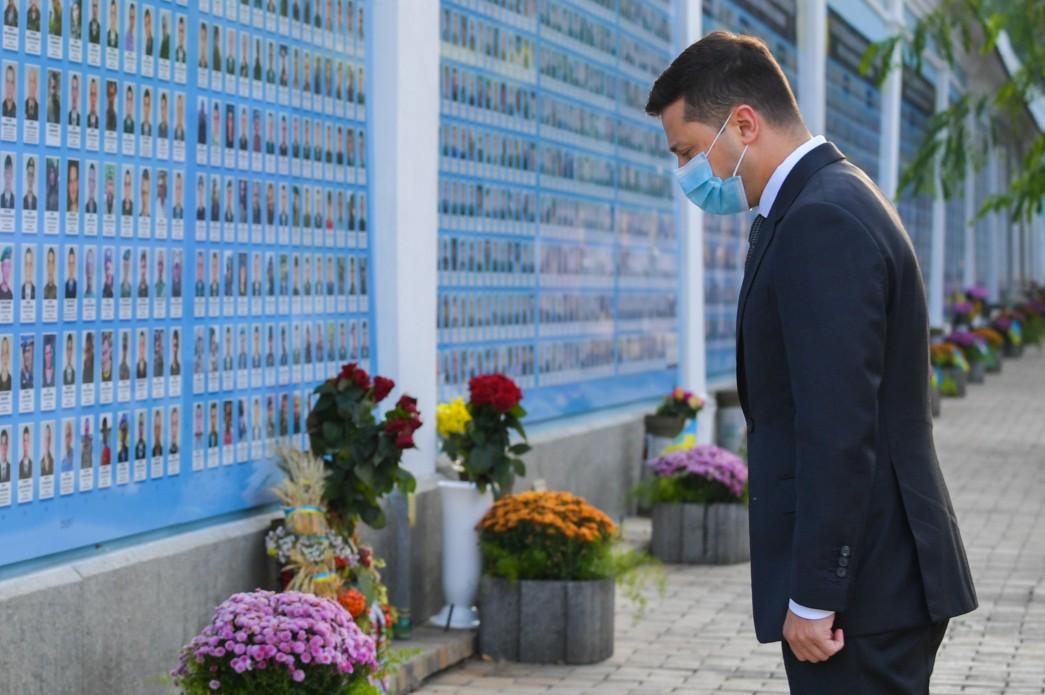 president.gov.ua
Speaking at the Military Lyceum in Kyiv where cadets pledged allegiance, President Volodymyr Zelensky said he would pay a visit to Donbas to meet Ukrainian soldiers, an UNIAN correspondent reports.
"Today, just as last year, I will be in the east, meeting with our soldiers. I can confidently say that a worthy and powerful generation is soon to follow in their footsteps – a new generation of future Ukraine Defenders," the head of state said.
The president added that Defenders Day is not only a men's holiday because among Ukrainian soldiers there are many brave and strong women who, alongside their male brothers-in-arms courageously perform their difficult duty, said the president.
He thanked the men and women serving in the Armed Forces, the National Guard, the State Border Guard Service and other law enforcement and security agencies, as well as volunteers and medics.
REUTERS
Defenders Day: Background
Former President Petro Poroshenko initiated the Defender Day holiday in October 2014, at the same time canceling the previous Soviet-era Defender of the Fatherland Day that had been marked, and is still being marked in Russia, on February 23. The Verkhovna Rada has backed the president's proposal on March 5, 2015.
October 14 is also an important religious holiday for millions of Ukrainians, most of whom are Orthodox Christian. This is the date with two historically symbolic meanings.
Called Protection of the Blessed Virgin Mary, the religious holiday has historic undertones since many Ukrainian Cossacks considered her a protector and intercessor of their main fort, the Sich. By his decree of August 7, 1999, then-president Leonid Kuchma created Day of Ukrainian Cossacks.
Coinciding with the date is the symbolic founding day of the World War 2-era Ukrainian Insurgent Army.