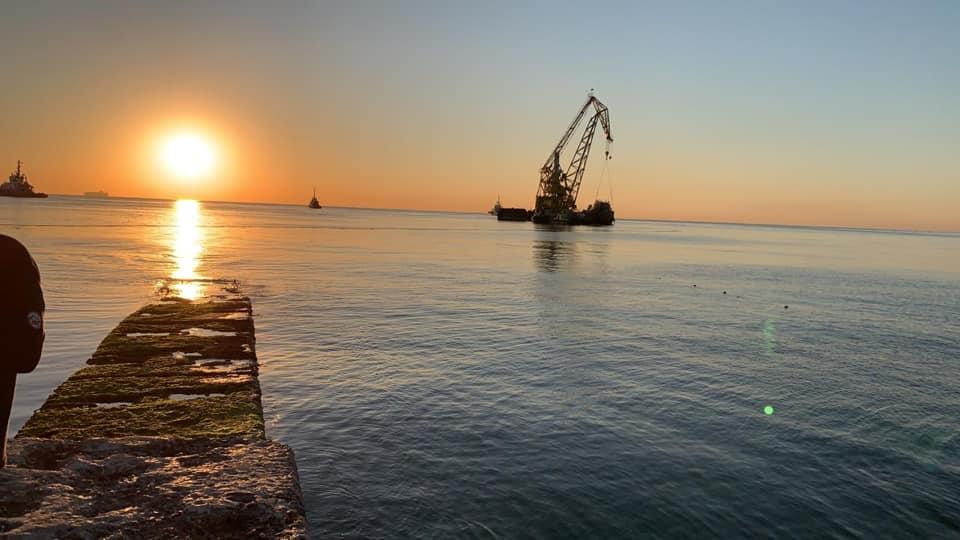 Photo Vladyslav Kryklii / Facebook 
The troublesome Delfi tanker that was stranded near the Ukrainian city of Odesa last autumn has eventually been removed from the beach.
"The Delfi has left the Dolphin Beach. She won't be missed," Ukrainian Infrastructure Minister Vladyslav Kryklii wrote on Facebook.
Background
The Delfi tanker with three Ukrainians on board went aground in the Black Sea near Odesa in November 2019.
The Delfi (IMO: 8866266, MMSI 214181012) is an oil products tanker built in 1977 (43 years old), the vessel was sailing under the flag of Moldova.
The local authorities opened a criminal case against the captain.
The fuel that continued leaking from the vessel polluted the coast. Leaks became even more frequent during the summer. The shipowner pledged to withdraw the tanker from the beach before March 31, but the operation was postponed. The previous attempts to remove the tanker failed in late July.
On July 23, the Ukrainian Sea Ports Authority (USPA) announced a tanker evacuation tender, setting August 28 as the deadline for bids. The minimum bid was fixed at almost UAH 24.7 million (US$886,885).
On July 26, Odesa Regional State Administration's commission on industry-related and environmental safety and emergencies designated the Delfi case as an emergency. The shipowner was denied the right to continue the vessel removal operation. Officials repeatedly said they did not rule out cutting the ship at the crash site. Environmentalists and public figures claimed that the incident could turn into a disaster for Odesa.
The vessel had to be lifted by a private company without the use of budget funds.
On August 26, the Delfi was put on an even keel.
On August 31, Odesa Mayor Hennadiy Trukhanov said the tanker would be towed on September 3-5.

On September 1, Odesa region's commercial court seized the Delfi as part of a claim filed by the USPA.