It was caused by a strong forest fire / Photo from Severodonetsk City Council
A household waste landfill in the city of Severodonetsk in Luhansk region has caught fire caused by a forest fire that broke out in the region on July 7.
"In general, the landfill is equipped with fire-fighting means, there is a water tank for 500 cubic meters, which is replenished from a well; there is a fire-fighting vehicle," Severodonetsk City Council said on its website on July 10. "However, the forest fire was too strong, and landfill workers were evacuated on July 7. And upon returning, the workers saw a large area of the landfill had caught fire."
Firefighters from the Ukrainian State Emergency Service's Severodonetsk department are now working on the scene, but their forces "are definitely not enough to curb the fire on such a large area."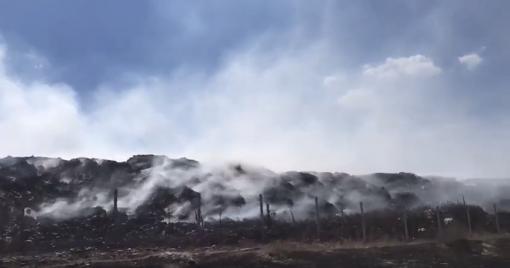 The landfill does not accept new solid waste / Photo from Severodonetsk City Council
"And solid waste from the city cannot be removed and brought here while the [landfill] continues burning," the city council explained.
The municipal authorities have turned to Luhansk region's Governor Serhiy Haidai for assistance in eliminating the fire at the landfill.
Read alsoBig wildfire in Luhansk region's Novoaidarsky district under control – emergency service
As UNIAN reported earlier, a fire on July 6 broke out on an area of about 50 hectares near the village of Oskolonivka in Novoaidarsky district, which is part of the Borovsky and Okhtyrsky forestry departments.
Gusts of wind (up to 25 meters per second) and high air temperatures (+ 38 °C) let the fire spread to the village of Smolianynove. It destroyed and damaged dozens of houses, 30 people, including 13 children, were evacuated from Smolianynove and a nearby gardening co-operative, and another 30 people were resettled. The death toll was five persons, 34 people were taken to hospital.
The police are considering three main theories behind the fire: severe weather events, careless handling of fire, and arson.
On July 8, Ukrainian President Volodymyr Zelensky announced that the state would allocate UAH 50 million, or US$1.85 million, in aid to those affected by the fires.