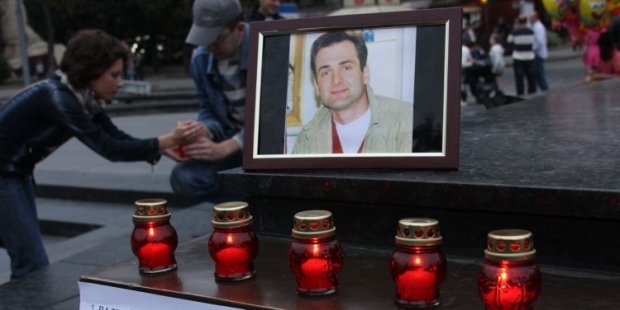 Photo from UNIAN
Wednesday, September 16, marks the 20th anniversary of the murder of journalist and founder of the Ukrayinska Pravda online outlet Georgiy Gongadze.
Despite the fact that the perpetrators have been convicted, the investigation has not identified the person who ordered the hit.
Read alsoGongadze murder case file doctored, lawyer claimsFamily and friends of the slain journalist, therefore, have some questions unanswered.
Gongadze murder: main facts
Georgiy Gongadze, founder of the Ukrainian Pravda online outlet, went missing on September 16, 2000. In November of the same year, his decapitated body was found in a forest near Tarashcha, Kyiv region. The remains of what prosecutors said could be Gongadze's skull were found in 2009, also in Kyiv region.
In the fall of 2000, the so-called "cassette scandal" erupted after the "Melnichenko tapes" were released with recordings allegedly secretly made in then-President Leonid Kuchma's office. The tapes alleged Kuchma and other officials and politicians' complicity in Gongadze murder.
On March 15, 2008, the Kyiv Court of Appeal found three former operatives with the Surveillance Department of the Ministry of Internal Affairs – Valery Kostenko, Mykola Protasov, and Oleksandr Popovych – guilty of Gongadze's murder. The court imprisoned them for terms from 12 to 13 years.
In 2011, the prosecutor's office opened a case targeting Leonid Kuchma before the court closed it the same year.
On January 31, 2011, the court refused to recognize Gongadze's murder a contract hit.
In January 2013, Police General Oleksiy Pukach, former chief of the Surveillance Department, was sentenced to life for the journalist's murder.
In December 2015, Pukach said that the murder of Gongadze was not premeditated and should be considered murder by negligence, telling a new version of events.
In early summer 2016, Pukach was transferred to the Chertkiv colony in Ternopil region.
On September 16, 2019, reports emerged in the media that Pukach could be released early.
On November 7, the Cassation panel of the Supreme Court of Ukraine postponed consideration of the appeal on Pukach's verdict.
Georgiy Gongadze was buried in Kyiv on March 22, 2016.