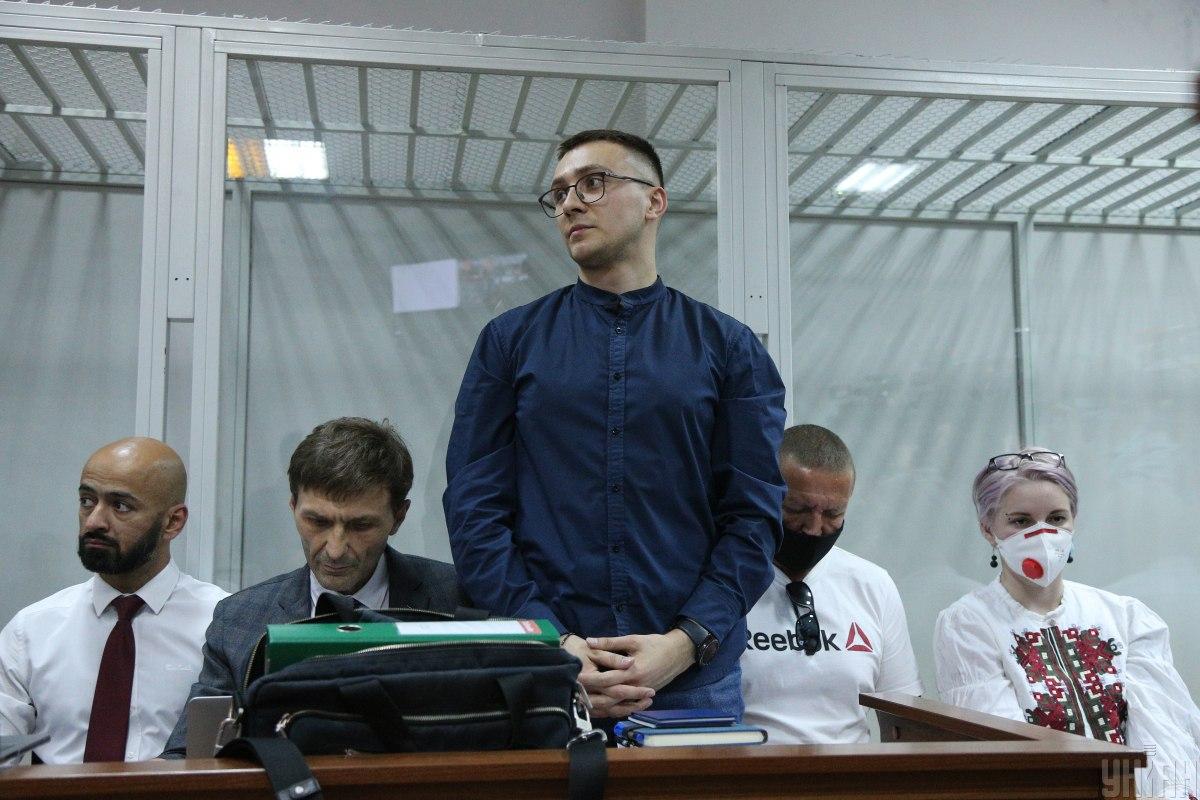 Photo from UNIAN
A district court in Kyiv on Monday, June 15, handed down a ruling to select 60-day round-the-clock house arrest as a measure of restraint in the homicide case where the suspect is Odesa-based activist Serhiy Sternenko.
In 2018, in what he claims was a third attempt on his life, the activist stabbed one of the attackers in an "act of self-defense". The assailant eventually died of the injury sustained. Amid reports that both attackers were charged with "hooliganism", the case sparked public debate on the issue of self-defense boundaries.
Upon hearing the court ruling, Sternenko noted that he could be unable to follow it as the judge ordered that he stay on "house arrest" at the address of official registration, which is an actual military base in Odesa where he won't be allowed entry as he is not a military serviceman, an UNIAN correspondent reports. 
This, Sternenko believes, could give the investigation grounds to claim he refuses to comply with the court ruling, only to further request that the court warrant custody remand, Ukrainian Pravda wrote.
The court put the said address in the ruling despite appeals on the part of defense team to change the address to that where the suspect currently resides, in Kyiv.
Also, the defense team says the judge's failure to read out the motivational part makes the ruling illegitimate.
Read alsoSternenko case hearing: law enforcers detain five at rally outside Kyiv courthouse (Updated)
A crowd has been rallying outside the courthouse throughout the day, demanding fair trial for Serhiy Sternenko. Earlier today, a clash erupted involving riot police and a number of protesters. Two law enforcers were suspended from service pending an investigation into the alleged use of excessive force against a detainee at the rally.
Tensions have risen at the site after protesters learned of the court judgment. They started hurling bottles at law enforcers cordoning off the courthouse, an UNIAN correspondent reported.
UNIAN memo: The SBU pressed homicide charges against Serhiy Sternenko, an Odesa activist and former leader of the Right Sector movement, over the death of Ivan Kuznetsov, a person identified as one of the attackers who assaulted him in 2018.
The assault was the third one over the course of the same year, all of which Sternenko claimed were attempts on his life. At the same time, as earlier reported by Ukrainian media, the attack on Sternenko, which turned out to be fatal for one of the two perpetrators, was qualified as "hooliganism, committed with the use of weapons or another item adjusted for inflicting bodily injuries."
The high-profile case has sparked public debate in Ukraine on whether Sternenko's actions were justified and whether the attacks on the anti-corruption activist were being properly investigated.