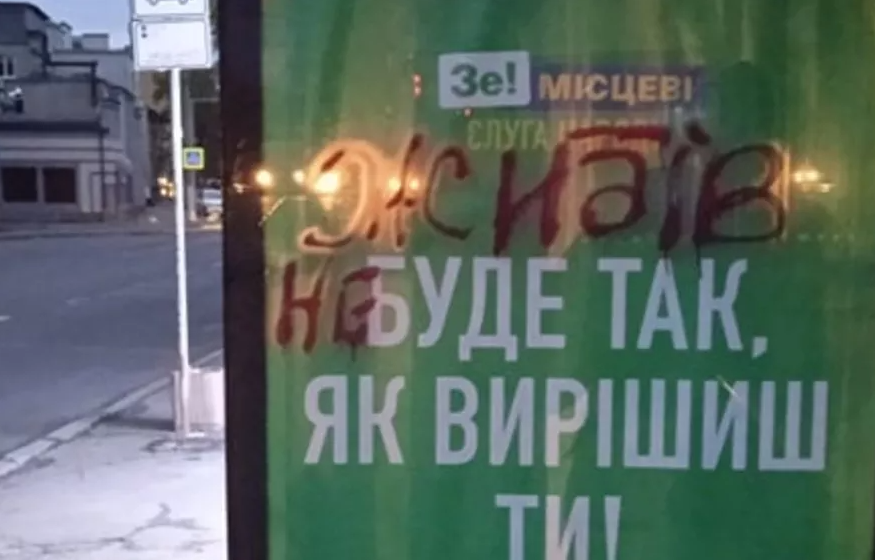 The anti-Semitic inscription on the board in Lviv / Photo from Facebook Eduard Dolinsky
Maksym Kozitskiy, head of the Lviv Regional State Administration, turned to the police after an anti-Semitic inscription was discovered on the advertising board of the Servant of the People political party.
UNIAN correspondents were informed about this by the United Jewish Community of Ukraine.
The head of the Lviv Regional State Administration categorically condemned the incident, calling the incident xenophobic in content. He turned to the police with a demand to open criminal proceedings on the fact of violation of Article 161 of the Criminal Code of Ukraine - violation of the equality of citizens depending on their race, nationality, religious beliefs, disability and other characteristics.
"An election campaign is underway in Ukraine. Various technologies are used, including black PR. Moreover, some do not even shun anti-Semitic appeals.
As the head of the Lviv Regional State Administration, I categorically condemn such actions, which are xenophobic in their content. And here party affiliation does not matter.
We must all remember that we live in a multinational and multi-religious country. Therefore, such things today are wild.
Metropolitan Andrey Sheptytsky, a great beacon of the Ukrainian people, often met with representatives of the Jewish community. When the rabbi greeted him, he answered him in Hebrew and called him a brother by faith. Let us remember today about the posture and science of our great countryman.
I personally appealed to law enforcement agencies regarding the initiation of criminal proceedings under Article 161 of the Criminal Code of Ukraine, in connection with incitement of national, religious enmity and hatred and humiliation of national honor and dignity. "
Earlier in Lviv, a board was found with the words "there will be no Yids, as you decide." Unknown people added the words "No Yids" to the political slogan of the party.
The United Jewish Community of Ukraine found out the whereabouts of the damaged billboard and immediately reported the incident to the Servant of the People cell in Lviv.
Representatives of the political party went to the scene and found that the anti-Semitic inscription had been erased. In the Lviv cell of the Servants of the People made a promise to respond and turn to law enforcement agencies, which was done by Maksym Kozitskiy.