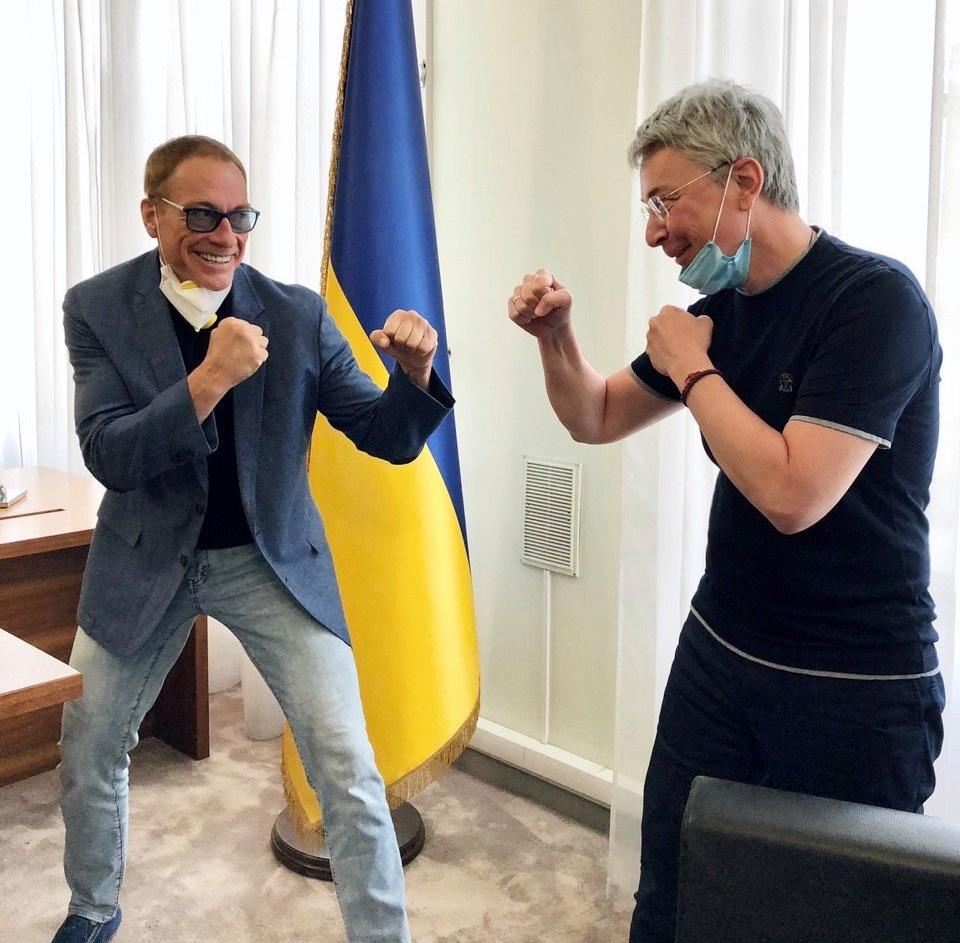 Jean-Claude Van Damme and Ukraine's Clulture Minister Oleksandr Tkachenko / facebook.com/oleksandr.tkachenko.ua
A popular U.S. streaming platform, Netflix, will shoot its first movie in Kyiv, Ukraine's culture minister Oleksandr Tkachenko has announced.
The Last Mercenary is a Netflix action comedy that will star Jean-Claude Van Damme, the iconic Belgian-born actor and bodybuilder known for his martial arts movies. Van Damme will play the role of a mysterious former secret service agent, who must return to France when his estranged son is falsely accused of arms and drug trafficking by the government, following a blunder by a bureaucrat and a mafia operation, according to CGTN.
The film is directed by Jean-Claude Van Damme and will be produced by Apple Tree film studio and Ukrainian Vlad Riashyn.
The 1980s-style action movie will star Alban Ivanov, Assa Sylla, and Samir Decazza, and features both English and French dialogue.
Read alsoHBO show success drives Chernobyl tourism boom – media
Filming is already underway in France, and minister Tkachenko says that shooting will go ahead in Kyiv and Paris until Autumn.
One reason could be that Ukraine's 16.6% cash rebate for local and international film and TV production shooting has been launched this year. The government incentive was approved in 2017 and aims to make the country a hotspot for the entertainment industry.
Ukraine is also considered to be a relatively inexpensive shooting location and is home to over 200 production companies, film studios, and post-production and visual effects facilities.
Ukraine's landscape is diverse – ranging from highlands to lowlands. In contrast to the vast mountain ranges, the capital city is famous for its Gothic, Byzantine and Baroque architecture.
Kyiv's charms have also made it an attractive location for other projects, including the latest Mission:Impossible film and Coldplay's music video Trouble in Town. Renowned companies such as Apple and Three UK have also chosen the city as the backdrop for commercials.
A release date hasn't been announced yet.
Read alsoStory of Holocaust on Instagram: How "Eva.stories" was created
Although filming is slowly restarting across Europe, current coronavirus restrictions are both impeding filming processes and pushing back release dates across the industry.
However, the upcoming months are sure to be interesting for Kyiv as the city forms the backdrop to a film that looks to revive the golden age of 80s action movies in the era of online streaming.