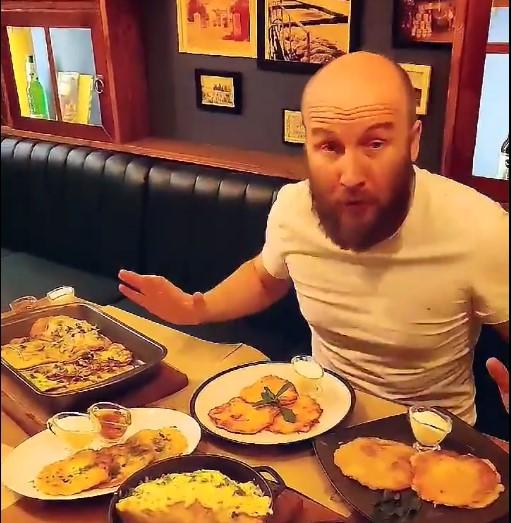 snapshot from video
Ukrainian entrepreneur Taras Kovalchuk of Ternopil in western Ukraine has come up with a way to ease the government restriction burden on his businesses amid the "weekend quarantine" introduced earlier.
Exploiting a legislation loophole, he decided to formally convert his restaurant into a church and a local hostel – into a monastery, which he believes will allow his establishments to avoid bans on weekends as part of the religious community that is not subject to new restrictions, Kovalchuk explained on Facebook November 12.
"We started looking for a legal mechanism to continue working in the new conditions. We studied the experience of other countries. Poland (Europe's most religious country) drew our attention where a fitness center flipped to become church. We started exploring the issue and found out that all we need is a religious organization rather than a church," he said.
So, Kovalchuk and his partners decided to create a religious organization, titled "Bratsvo Lysyh" ("Brotherhood of the Bald") and run their business on its behalf.
Read alsoDaily COVID-19 spike in Ukraine hits new high with almost 12,000 cases on Nov 13Kovalchuk noted that Article 35 of the Constitution says "Everyone shall have right to freedom of beliefs and religion. This right shall include the freedom to profess any religion or profess no religion, to freely practice religious rites and ceremonial rituals, alone or collectively, and to pursue religious activities."
Weekend quarantine: Background
On November 11, the Cabinet of Ministers decided to introduce the so-called weekend quarantine nationwide from November 14 to 30. It will be in effect from 00.00 Saturday through 00.00 Monday.
On the weekend, additional bans will be in place beside the week days' restrictions. Cafes and restaurants (except for take-out), shopping malls and entertainment centers, other entertainment outlets, fitness centers and the like must be closed on Saturdays and Sundays.
Only grocery stores, pharmacies, veterinary pharmacies, medical institutions, and gas stations are allowed to operate.
Reports say three ministers refrained from supporting the government's move this week to introduce "weekend quarantine" across Ukraine: Minister of Culture Oleksandr Tkachenko, Interior Minister Arsen Avakov, and Minister for Digital Transformation Mykhailo Fedorov.