One of the detainees is a holder of a Russian passport / Photo from ssu.gov.ua
The SBU Security Service of Ukraine says its officers have revealed and stopped the activities of a group of pro-Russian propagandists who called for the violation of Ukraine's territorial integrity.
The perpetrators, one of whom is a holder of a Russian passport, were producing separatism-inspiring, inciting ethnic hatred materials and distributing them on the Internet, the SBU's press service said on its website on June 23, referring to a pretrial investigation.
Read alsoUkraine declassifies Soviet KGB archives on Chornobyl disaster
In particular, the propagandists campaigned for violating the state borders and creating pseudo-state formations on the territory of certain Ukrainian regions. Moreover, they often took part in manipulative TV programs on Russian TV channels disseminating propaganda.
The examination showed that the videos shot by the attackers contain public calls for an encroachment on Ukraine's territorial integrity and inviolability.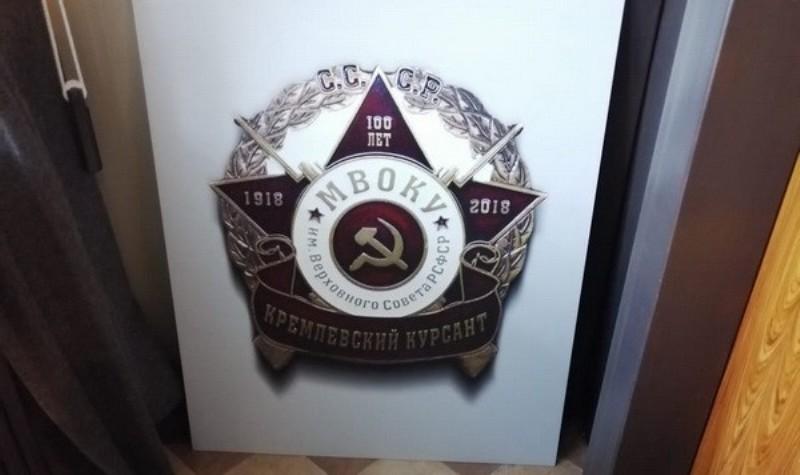 A commemorative award from  Moscow Higher Military Command School / Photo from ssu.gov.ua
During warranted searches conducted at places of residence and temporary stay of members of the group, law enforcers seized anti-Ukrainian materials, scripts and reports on anti-state information campaigns, money provided by Russian sponsors, data storage devices, and literature prohibited by Ukrainian law, as well as commemorative awards from the Moscow Higher Military Command School.
The organizer of the group and his accomplice were notified of suspicion under Part 2 of Article 110 of the Criminal Code of Ukraine.
Law enforcers are checking information on the possible involvement of certain Russian political forces and public organizations in financing anti-Ukrainian propaganda actions.