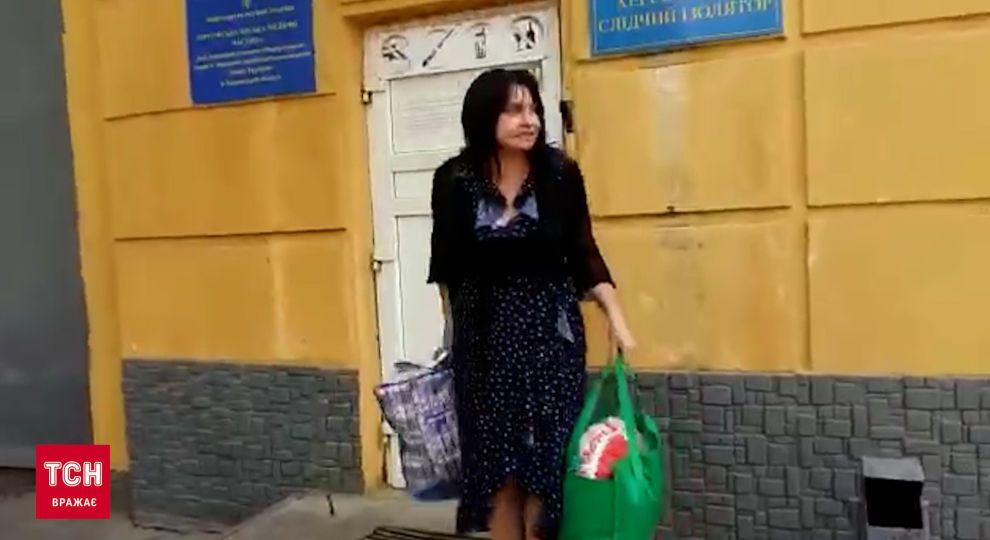 Snap from video
The court in Kherson on Monday, October 5, released from custody a Ukrainian woman, Tetiana Kuzmych, whom counterintelligence operatives this summer detained on high treason charges for spying in favor of the aggressor state Russia.
The suspect was released after UAH 500,000 bail was posted, TSN correspondent Andriy Tsaplienko reports.
The investigation says back in 2015, Kuzmych, chief of the Rusich NGO who also taught students at the Kherson Academy of Continuing Education, was recruited during her visit to the occupied Crimea by a Russian intelligence operative who went by a pseudonym Alexander Prestolov, the report reads.
Kuzmych has been assigned a codename: Tsvetayeva.
Read alsoWhy Russia is afraid of Ukraine's Neptune missilesIt was established that the woman had been gathering intelligence on Ukrainian government agencies and transferring sensitive data to the invaders via e-mail and in private meetings in Crimea and Moscow.
During the raid at Kuzmych's home, a computer was retrieved before the security service obtained formal access to her e-mail account used to transmit intelligence to the Russians, as well as software that deleted the sent files).
In August, the court ruled to remand the suspect in custody until October 9, setting bail at UAH 529,500.
After that, several pro-Russian politicians and lawyers visited Kuzmych, while Russia's Rossotrudnichestvo agency intended to post bail.
Also, MP with the pro-Russian Opposition Bloc, Vadym Novinsky, also expressed readiness to bail the Russian spy out.
It remains unclear, who exactly posted the required sum to have Kuzmych released from custody.
More on Russian spies exposed in Ukraine