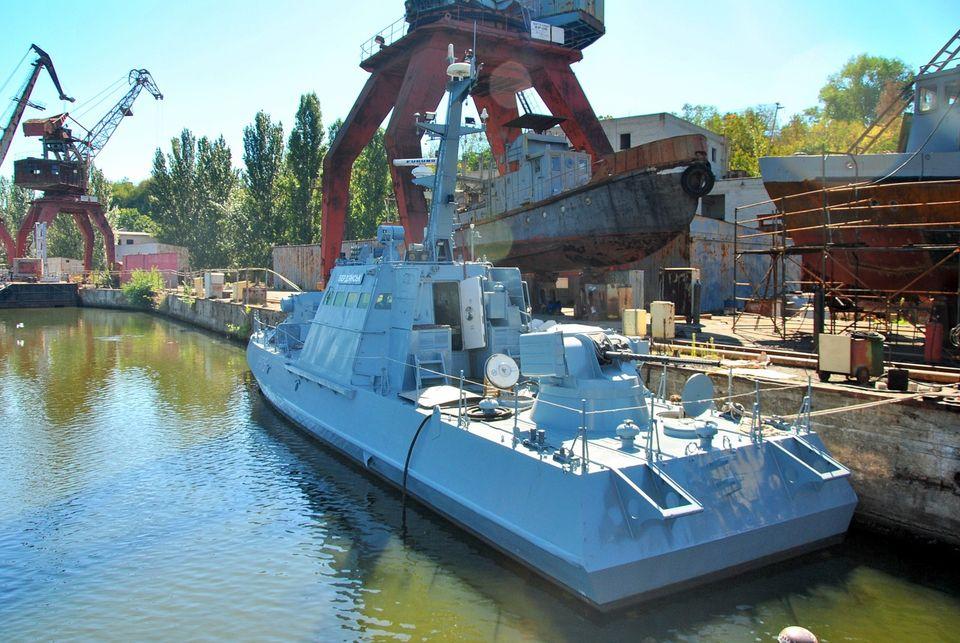 ukroboronprom
Berdyansk, the Gyurza-M-class small armored artillery boat involved in the November 2018 incident near the Kerch Strait where Russian forces attacked and captured several Ukrainian Navy vessels, has been launched after dock repair works.
That's according to the press service of Ukroboronprom, Ukraine's defense giant.
"The boat, whose hull was shot through amid Russian aggression in the Kerch Strait in November 2018, has already been launched," the statement says.
Read alsoUkraine Marines get new armored artillery boat (Photo)The damaged sections of the hull have been cut out and transferred to the National Military History Museum of Ukraine.
"Specialists at the Mykolaiv Shipyard continue works to restore the interior, vessel systems, and devices. According to the plan, the repair of the Berdyansk boat will be completed in November," the report reads.
Kerch Strait attack in 2018: background
On the morning of November 25, 2018, Russia, using a tanker they claimed had "ran aground," blocked the passage in the Kerch Strait for Ukrainian Yany Kapu tugboat, as well as Berdiansk and Nikopol armored artillery boats.
The vessels were on a scheduled redeployment from the port of Odesa to the port of Mariupol in the Sea of Azov.
According to Ukraine's Navy, the Russian side had been informed about transfer plans in advance in accordance with international rules.
However, Russia's Don coast guard ship rammed a Ukrainian tug contrary to the UN Convention on the Law of the Sea and the Treaty between Ukraine and the Russian Federation on Cooperation in the Use of the Sea of Azov and the Kerch Strait.
Subsequently, during the passage of ships from the waiting area to the permanently-based point, somewhere at a distance of 13-14 miles from the coast of Crimea and about 40 km southeast of Kerch, the Ukrainian ships, which were accompanied by Russian vessels, were fired upon and blocked. Three Ukrainian seamen were wounded and three – injured.
Russia captured all 24 crew members and seized the boats claiming violation of the state border in the area it claims belongs to the Russian Federation following the internationally-unrecognized Crimea grab of 2014.
On May 25, 2019, the International Tribunal for the Law of the Sea obliged Russia to immediately return the crew and vessels to Ukraine. Russia has ignored the judgment.
The servicemen were only released on September 7, 2019, in a prisoner swap effort between Ukraine and Russia, while later, the boats were also returned to Ukraine in November.