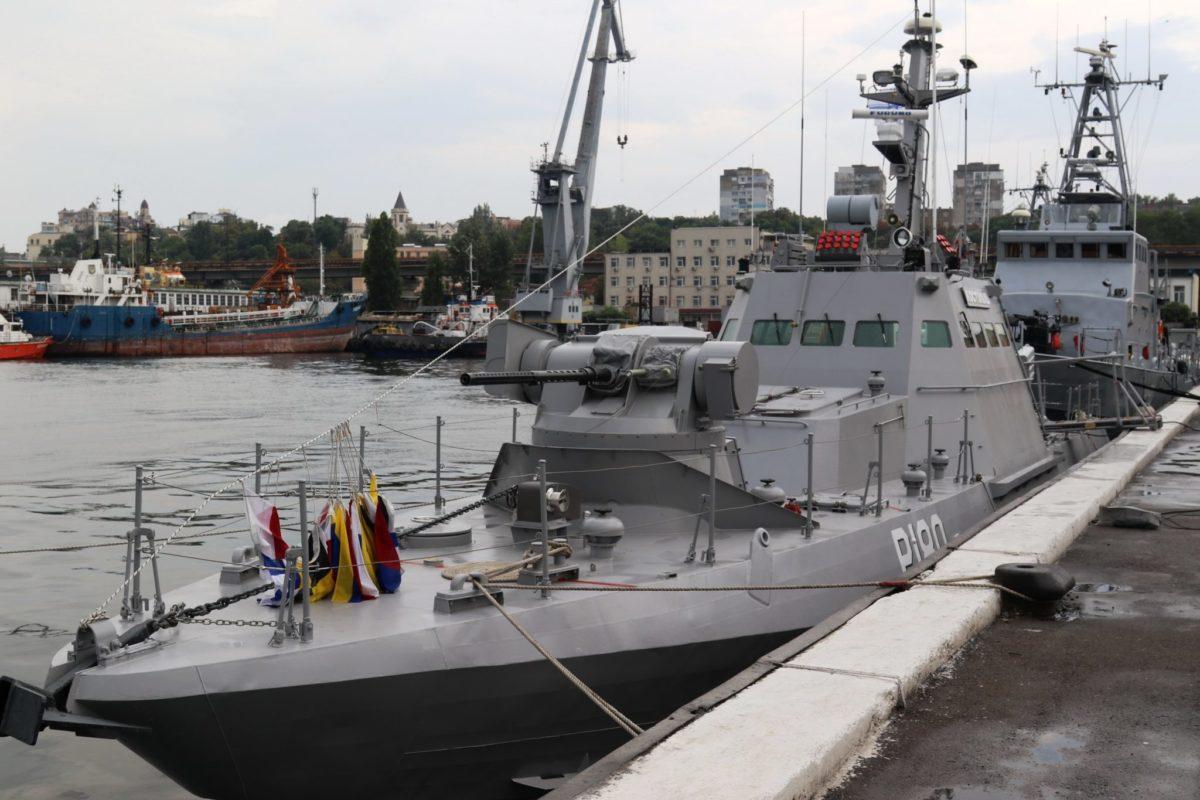 ArmyInform
The armored artillery boat Kostopil has been commissioned to service with the Ukrainian Navy's Marines.
The Ukraine-made boat has successfully passed all stages of factory and state tests, the ArmyInform news agency reports.
Read alsoFrance to supply 20 patrol boats to Ukraine – French envoyThe Kostopil boat got its name in honor of the town in Rivne region, where a Ukrainian Marine hero Oleksiy Kondratiuk was born. The Ukrainian soldier perished on a combat mission outside the strategic port city of Mariupol in the Azov Sea littoral in Donetsk region on March 17, 2017.
An official ceremony of boat commissioning was held in Odesa, where Ukrainian Navy Commander Rear Admiral Oleksiy Neizhpapa handed the boat's crew the Navy flag to be flown on the vessel.
Read alsoU.S. plans to hand over to Ukraine Navy another three Island-class patrol boats in 2021The report says the Gyurza-M-class artillery boat, which is part of Project 58155, is equipped with modern navigation, radar equipment, and weapons to defeat enemy targets.
Project 58155-class gun boats: details
All boats developed within the project's framework will patrol the coastal sea areas, protect and defend ports, sea or river communications within the territorial sea waters, participate in diversified maritime operations in the Black Sea-Azov Sea Basin, including in missions to counter possible landing of enemy amphibious assault forces.
Powered by two diesel engines, the Project 58155-class can sail at a maximum speed of 25kt and reach up to a range of 900nm at 12kt. It can travel up to 50mi off from the base port and stay afloat for approximately 120 hours, according to Naval Technology.
An electro-optical fire control system is located atop the bridge for surveillance and monitoring of sea surface. The boat also features a navigation radar, antenna masts, and communications systems. A laser range finder is installed to detect and track targets.
The forward and aft sections of the boat are fitted with a BM-5M.01 Katran-M remote-controlled naval combat module.
Armament also includes a 30mm ZTM-1 automatic gun, 7.62mm CT machine gun, and laser-guided man-portable air-defense systems (MANPADS). The ZTM-1 automatic gun can engage enemy aircraft flying at low altitudes, light armored infantry combat vehicles, and dismounted soldiers.
The vessel is also armed with two Barrier anti-tank guided missiles to fight against stationary and moving light-armored objects, helicopters, and modern armored combat vehicles, fitted with explosive reactive armor (ERA).