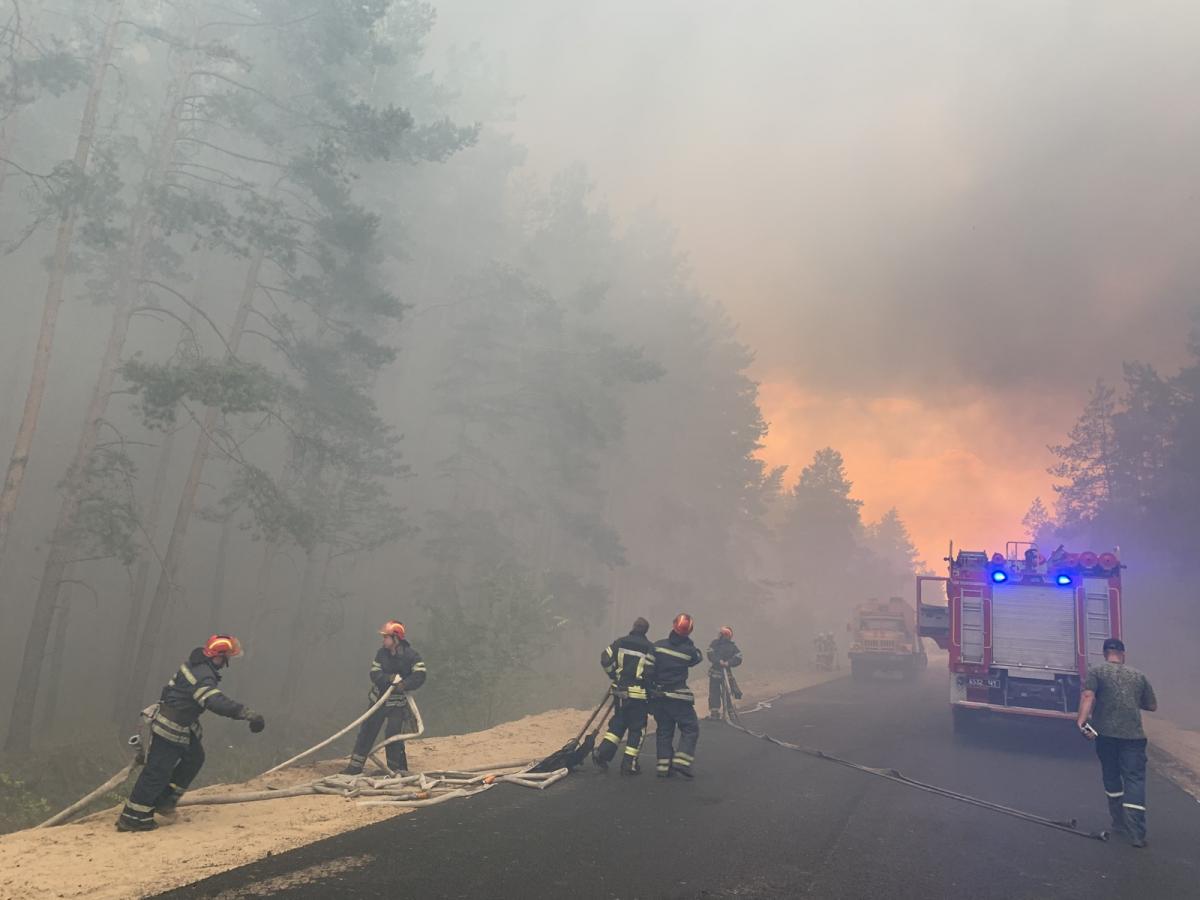 The death toll is five people as of Tuesday evening / Photo from Ukraine's Emergency Situations Service
Luhansk region's Governor Serhiy Haidai says that arson may be behind the wildfires that are currently raging in Ukraine's east.
"It has not been analyzed yet, but it could be an arson attack," he told Radio NV.
Gusts of wind are an obstacle to preventing the spread of the fires.
"It's been 38 [degrees Celsius] for almost a week. There are [fire] protection belts, but yesterday [the wind was so strong] that a burning [pine] cone reached us while we were 50-60 meters away from the epicenter [of the fire]," he said. "When the fire is spreading along the tops [of the trees], I've just witnessed that the entire forest has caught fire within one and a half to two minutes."
Police and patrols visit houses and evacuate local residents, he said.
Read alsoUPDATE - Wildfires in Luhansk region: Number of victims grows to five dead, nine injured (Photos)
"But it's very hard to talk with older people, they don't want to leave homes. They say: 'We were born here and we will die here.' I've tried to persuade some of them for half an hour because they say: 'No, these are our houses, we won't go anywhere,'" he said.
According to him, many law enforcement officers are engaged in anti-looting efforts.
"I've spoken with the defense minister, the Joint Forces Operation's commander. Equipment has departed for us from the city of Dnipro, from Donetsk region. There will be a lot of equipment. But in some areas, the fire front is so massive that quadcopters fall because of the temperature," he added.
The fire area is currently about 100 hectares.
As UNIAN reported earlier, two large-scale wildfires were reported in Luhansk region's Novoaidarsky district, Ukraine's east. On the afternoon of July 6, a fire broke out on an area of about 50 hectares near the village of Oskolonivka in Novoaidarsky district, which is part of the Borovsky and Okhtyrsky forestry departments. On the morning of July 7, the fire was contained on an area of about 85 hectares. Gusts of wind (up to 25 meters per second) and high air temperatures (+ 38 °C) let the fire spread to the village of Smolianynove.
The death toll as of Tuesday evening was five people, nine other victims have been hospitalized.
Also, firefighters are liquidating a fire on an area of about 40 hectares near the village of Kapitanove in Novoaidarsky district.