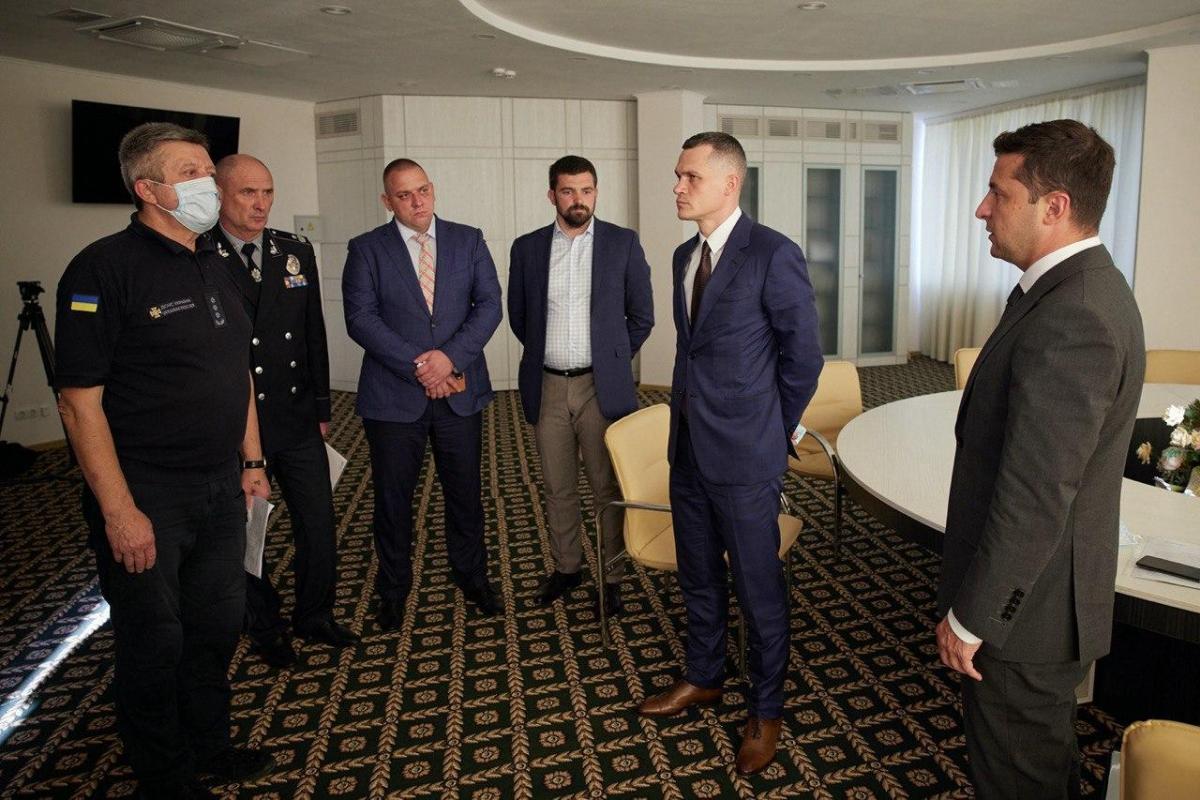 Photo from Ukrainian President's Office
Ukrainian President Volodymyr Zelensky has held an urgent meeting with regard to wildfires erupted in Kharkiv and Luhansk regions.
Read alsoSeverodonetsk landfill in Luhansk region on fire, municipal authorities ask for help (Photo, video)According to the latest data, the area of the fire is 400 hectares, of which 100 hectares is a crowing fire, the President's Office said on Telegram on September 2.
Eight houses out of 150 ones have burned down in one of the villages, the report said.
Representatives of the State Emergency Service of Ukraine told Zelensky that the required amount of equipment and personnel had been involved to extinguish and localize the fire. In addition, units of the Armed Forces had been involved in Luhansk region as well.
The local population was notified about the possible evacuation, but people are still refusing it.
"The preliminary cause of the wildfire was the ignition of a landfill, from which the fire spread to the forest due to wind gusts. However, law enforcement agencies do not rule out arson. Fire extinguishing continues, but the situation is complicated over strong gusts of wind," reads the statement.
The president said he would keep the situation under control.
"I demand quick reactions to such events. If required, we will organize the evacuation of all people, we must think first about their safety. Everything must be done to localize and extinguish [wildfires] as soon as possible. And we must already think about allocating funds to cover losses. Not latter, but now," he said.
Fires in Luhansk region
A fire on July 6 broke out on an area of about 50 hectares near the village of Oskolonivka in Luhansk region's Novoaidarsky district, which is part of the Borovsky and Okhtyrsky forestry departments.
Gusts of wind (up to 25 meters per second) and high air temperatures (+38 degrees Celsius) let the fire spread to the village of Smolianynove. It destroyed and damaged dozens of houses, 30 people, including 13 children, were evacuated from Smolianynove and a nearby gardening co-operative, and another 30 people were resettled. The death toll was five persons, 34 people were taken to hospital.
The police was considering three main theories behind the fire: severe weather events, careless handling of fire, and arson.
On July 8, Ukrainian President Volodymyr Zelensky announced that the state would allocate UAH 50 million, or US$1.81 million, in aid to those affected by the fires.