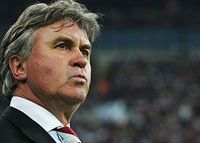 Guus Hiddink
If Guus Hiddink could run for president, Russians might elect him by a landslide. They are not only elated by the national team's success in reaching the semi-finals of Euro 2008, but also astonished at the speed and beauty of their football, according to
The Times
 .
Russians have had little to shout about regarding the national team since 1988, when the Soviet Union reached the final of the European Championship. Then they lost 2-0 to Holland, whose goals included a wonder strike from Marco van Basten. So, defeating Van Basten's Dutch team last Saturday was sweet revenge for older fans and a miracle for Russians too young to remember anything but dashed hopes on the field of play.
Hiddink is viewed as the tactical genius who has turned a little-known squad into potential champions of Europe. Yesterday's Russian newspapers devoted their front pages to Saturday's victory, with even the normally staid Rossiiskaya Gazeta enthusing: "There has never been such a football team in the history of modern Russia." Nezavisimaya Gazeta was no less ecstatic, with the headline "Made in Russia" printed in English above a photograph of Hiddink, who was called the "key factor in the Russian football miracle".
Uefa's top football analyst offered a more prosaic explanation yesterday, suggesting that Hiddink's squad — all but one of whom ply their trade in the domestic league — had more energy than players from Western Europe, who are at the end of their domestic seasons. Andy Roxburgh, the former Scotland manager, who is Uefa's technical director, said that Russia's league was on a break after playing 11 matches of the new season, leaving the team less physically and mentally tired than others at the tournament.
Russia scored twice in extra time to beat Holland and set up a semi-final against Spain on Thursday and a chance to avenge the 4-1 defeat suffered in the group phase. Roxburgh said: "That the Russians are in the middle of their season could be an advantage and certainly the way they played against Holland would suggest that. They seem to get stronger and stronger as they've gone on. They've got some very good players, they have got an excellent coach, but clearly the fitness element is very impressive."
Hiddink, who led Holland and South Korea to World Cup semi-finals, believes that the Russia players are at a disadvantage because they do not play top opposition each week. He accused his team of naivety in losing to Spain. "They don't have to go every week in very tough, high-paced games," he said. "They can commit an error without being punished and that is why it's important to be here."
Such debates mean little to the fans, who have turned the centre of Moscow into a giant street party after each victory. They are revelling in joyous football and are thrilled finally to have a team to be proud of.