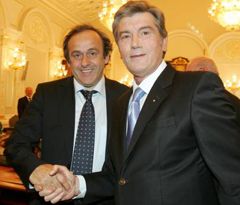 Poland and Ukraine were working hard this week to ease concerns they could yet lose the right to host the 2012 European soccer championships due to delays on stadium projects in Kiev and Warsaw, reinforced by pressure from Italy and other countries to move the tournament elsewhere, according to New Warsaw Express.
UEFA chief Michel Platini issued a veiled warning to both countries earlier this month, saying "a final decision" would be taken in September.
He said nothing to ease fears after a meeting with Prime Minister Donald Tusk in Warsaw on Wednesday, pleading that he had lost his voice due to a cold.
Tusk made the now customary commitments to keep to the planned timetable for construction of the new national stadium – which from the start has been set to go down to the wire.
"The plan we have approved, and which was accepted by UEFA, will be carefully fulfilled by the Polish side," Tusk told a joint news conference with Platini. "We guarantee we will deliver on these investments, including the stadium in Warsaw, as per the planned timetable."
The press in Italy, which had been the favourite to host the tournament before losing out to Poland and Ukraine, have continually speculated that UEFA may change its decision due to concerns over stadium projects in both countries.
Poland also has a mountain to climb on creating the hotel infrastructure needed in each of the four cities which will host games in 2012. Most popular discussion of the next tournament, since Euro 2008 finished this week, has also raised the issue of the distances fans are likely to have to travel, given the poor road connections in both countries.
UEFA has frequently denied it has a contingency plan for the tournament, but Platini has also made clear that the construction of the stadiums in Kiev and Warsaw on time is a key issue. Polish government officials have been telling journalists off the record that the problem is chiefly around permit delays and other concerns with the stadium in the Ukrainian capital.
"Platini stressed that what is important is for us to complete the national stadium on time," Sports Minister Mirosław Drzewiecki told reporters. "Because if there were to be a problem, then the big games would be played in Warsaw." Poznań, Wrocław and Gdańsk are the other Polish cities set to host games.
Ukraine's four venues are Kiev, Donetsk, Lviv and Dnipropetrovsk.
"Platini will only sum up publicly his views on the tournament when he finishes his visit to Ukraine on Thursday," Marcin Herra, head of the public company tasked with preparing the country for the championships, told daily Gazeta Wyborcza. "We did not paint the grass green here. We have been working every day with UEFA for several months and everyone knows exactly what is happening in Poland. Platini has said that we are to concentrate on our own preparations."