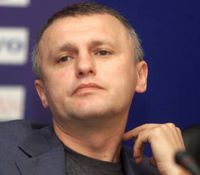 Igor Surkis
During winter low season President of Kyiv "Dynamo" Igor Surkis is about to sell four players.
"I want to note that unfortunately in Spring Dynamo will play only in one tournament, it means that the coach headquarters will have a possibility to give a chance to our youth. We much to train players and it would be incorrect not to give a chance to champions of Europe Korkishko, Petrov and Pushkar to show themselves.
But first of all it is necessary to clean the team and place the players of high level who do not get into the team for different reasons. It applies to Diakate, Kravchenko, Sablich and Mandzuk", TSN quotes Surkis.
According to his words, negotiations concerning Kravchenko, who has to become a Dnepr player, have already been finished".