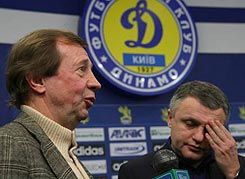 Yuri Syomin and Igor Surkis
Former Russia manager Yuri Syomin has been appointed Dynamo Kiev coach, the Ukrainian champions said on Saturday, Reuters reports.
Club president Igor Surkis installed Syomin in place of acting coach Oleg Luzhny, who guided Dynamo to the Ukrainian Cup semi-finals with a 3-2 aggregate win over Tavria Simferopol on Saturday.
Syomin, 60, becomes Dynamo`s fourth coach in less than three months after Anatoly Demyanenko, Josef Sabo and Luzhny all failed to revive the struggling premier division club.
Dynamo, Ukraine`s most successful and popular club with 12 league titles since 1993, are having a dismal year, both domestically and in Europe.
They have been already eliminated from the Champions League after losing all five of their matches in Group F, conceding 16 goals and scoring only four. In the Ukrainian league, they are tied for fourth place midway through the season.
"(Syomin`s) priority will be to improve the team`s performance so that they are not shamed at international level," Surkis told reporters.
Syomin, who quit as Russia coach after failing to guide them to the 2006 World Cup finals, was sacked as Lokomotiv Moscow president last month after the Russian premier league club endured the most disappointing season in their recent history.