News Gryzlov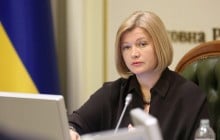 Ukraine MP comments on Russia's unauthorized recording of peace talks, threats to release tapes
This may indicate that "in such an exotic way, Moscow seeks to put a squeeze on Kyiv to make them fulfill obligations that [Leonid] Kravchuk undertook on amending the [local] election resolution."
16:05, 01 October 2020
Kravchuk schools Russia's Gryzlov at Minsk talks over Donbas status
Donbas is part of Ukraine, the former president of Ukraine has stressed.
13:35, 17 September 2020
Russia's Gryzlov throws tantrums at latest TCG talks – Ukraine delegate
The Russian representative was reportedly mad at Leonid Kravchuk's principled stance on a number of issues.
11:05, 03 September 2020