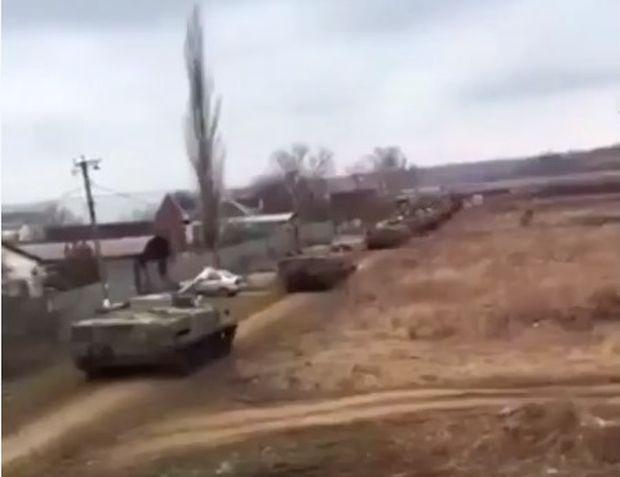 twitter.com/fatimatlis
A convoy of BMDs (amphibious combat vehicles used by airborne forces) is seen in one of the Russian villages near the border.
The video was posted by a Voice of America correspondent Fatima Tlisova, who says the armored vehicles are passing "into Ukraine."
Russian tanks passing into #Ukraine - this video taken yesterday, April 7, in a village in Rostov region next to the border between the two countries. Locals say this was a second convoy. pic.twitter.com/2fNczgeWC2

— Fatima Tlis (@fatimatlis) April 8, 2018
The journalist says the video was filmed on April 7 in the village of Petrovka in Russia's Rostov region.
Each of the BMDs can transport three crew members and five paratroopers.
According to the locals, this is the second convoy of such armored vehicles passing the village recently.
Fatima Tlis later posted a correction update to her original tweet: "Video recorded 4/7/18 in the village of Petrovka, RU <> 25 miles from Ukrainian border; Allegedly there were two convoys; The vehicles are combat BMDs; The plates are freshly covered by paint; Locals say unusual route for military."
Coordinator of the Bellingcat OSINT project Aric Toller cited geolocation data, claiming that the video was shot 40 km from the border with Ukraine.
According to Toler, the nearest Russian military base in the area is located at a 17 km distance.
The original tweet with this Russian equipment video said that the BMP-3s were "tanks passing into #Ukraine", leading to a panic that this is a new Debaltseve. Geolocation shows the video was taken almost 40km from the border. The largest Russian base in the area is ~17km away. pic.twitter.com/uQecC3DGdV

— Aric Toler (@AricToler) April 8, 2018