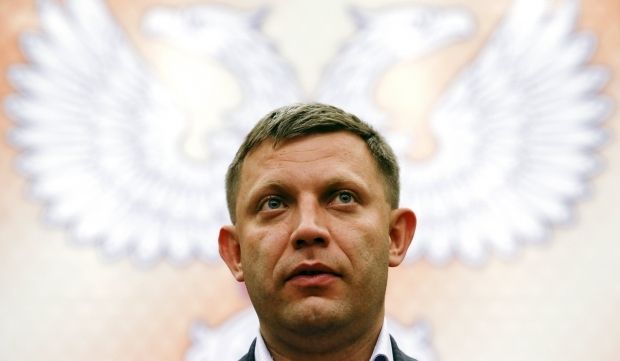 Alexander Zakharchenko / REUTERS
Leader of Russian-led terrorists from the self-proclaimed "Donetsk People's Republic" ("DPR") Alexander Zakharchenko has ordered to cancel "customs duties" between the "DPR" and the other self-proclaimed republic, "Luhansk People's Republic" ("LPR") in Russian-occupied Donbas.
"When meeting with the 'LPR' head, we discussed the possibility of lifting all customs restrictions between the 'republics,'" Zakharchenko said at a meeting with so-called "deputy chairmen" of the "Council of Ministers," the Ukrainian news outlet Ostrov reported with reference to Donbas militants' websites.
Read alsoRussian occupiers limit public employees' travel from occupied Donbas to Ukraine – Def. Ministry
"I am instructing you to gather the presidium of the 'Council of Ministers' of the 'DPR' today to address the issue related to the customs duties in accordance with our legislation. Many differences in the legislative framework of the 'LPR' and 'DPR' have already been settled," he added.
"From now on, let our entrepreneurs and people go to the territory of the 'LPR' without paying any taxes and fees, as was agreed in our 'green paper,' which was signed by the 'LPR' head and myself," Zakharchenko said.
The so-called "vice prime minister" of the "DPR," nom de guerre "Tashkent" said, in turn, that only goods produced by the two self-proclaimed republics for each other would be "exempt" from the "customs duties."
As UNIAN reported earlier, Zakharchenko and the so-called "acting head" of the "LPR," Leonid Pasechnik, signed a "protocol" of intention late in January to create a "common customs area" in occupied Donbas.
It was said then that after the "document" was signed, the "DPR" and "LPR" would be able to interact in transportation by rail.
After the middle of March 2017 when Ukraine officially blocked shipments of Ukrainian goods to Russian-occupied Donbas until the full implementation of the Minsk peace agreements, the share of Russian-made products in the temporarily occupied areas started to grow. The share of locally produced goods remains insignificant, however, certain Ukrainian commodities smuggled into occupied Donbas via the so-called grey zone along the contact line are still available.