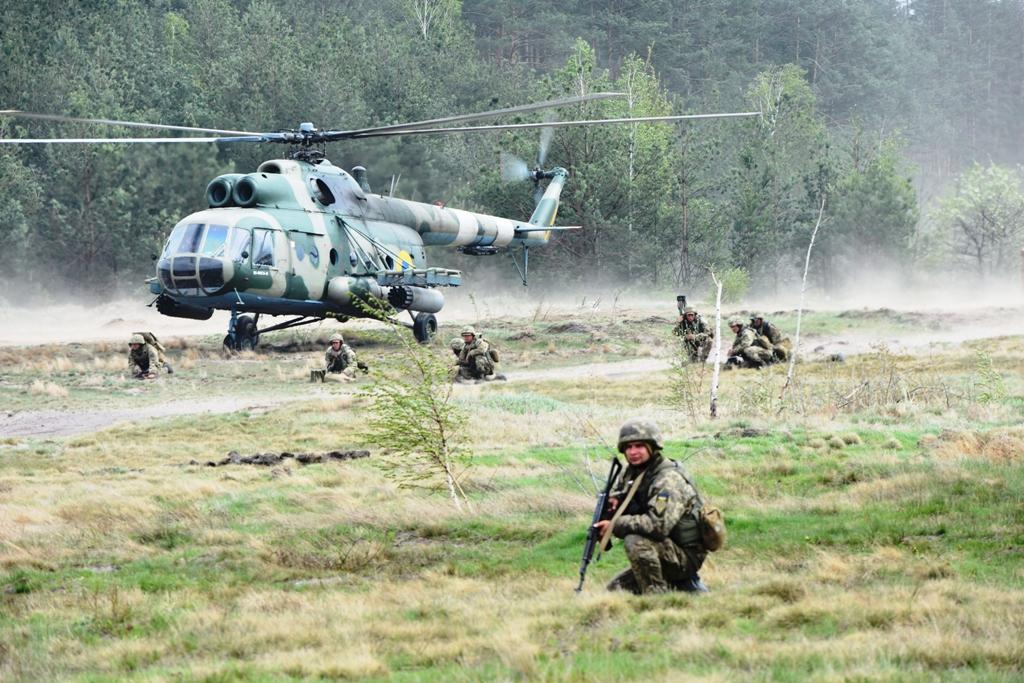 Ministry of Defense of Ukraine
Ukraine's Joint Forces Commander Serhiy Nayev says that the country will deliver a rapid and effective response in case Russia expands aggression or use its air force in Donbas.
"The enemy should consider [the introduction of hi-end automated military command and control systems] a response to the threats coming from some Russian officials regarding plans to expand Russia's aggression against Ukraine or to apply new means, for example, the air force. The Ukrainian Army's response to such actions, if the enemy ever resorts to them, will be quick and effective," Nayev told a Wednesday briefing in Kramatorsk.
However, according to Nayev, the military operation is only one of the elements to achieve the main goal, which is to restore peace and ensure the well-being of citizens throughout the Ukrainian Donbas.
"It is clear that we will provide a stern rebuff to enemy provocations. Especially those related to the shellings of civilian neighborhoods, at the crossing points along the contact line," he said.
Read alsoMinistry names three scenarios for Donbas de-occupationAs UNIAN reported earlier, the Verkhovna Rada on January 18 passed Law "On the peculiarities of state policy to ensure the state sovereignty of Ukraine in the temporarily occupied territories in Donetsk and Luhansk regions," commonly known as the Donbas reintegration law. Among other things, the law provides that the management of the forces and means of the Armed Forces of Ukraine, other military formations, the Ministry of Internal Affairs, National Police, central executive body implementing the state policy in the field of civil protection, involved in taking measures to ensure national security and defense, rebuff and deter armed aggression of the Russian Federation directly in Donetsk and Luhansk regions, is exercised by the Joint Forces Commander, who shall be appointed by the president on the recommendation of the Chief of the General Staff, Chief of the Armed Forces.
According to the law, the Joint Forces Commander exercises his powers through the Joint Operational Staff of the Armed Forces.
In March, Ukrainian President Petro Poroshenko appointed Lieutenant-General Serhiy Nayev, Deputy Chief of the General Staff of the Ukrainian Armed Forces, to the post of Joint Forces Commander.
Read alsoJavelins to help Ukraine defend against Russia yet military's command structure needs to be reformed – CarpenterOn April 30, Poroshenko signed a decree on the completion of the Anti-Terrorist Operation and another order - on the start of the Joint Forces Operation. The JFO was launched at 14:00 April 30.
The president noted that in the event of the Russian Federation's large-scale offensive in Donbas, the JF Commander shall be responsible for rebuffing such aggression.
According to Poroshenko, the ATO could be renewed at any time in case if terrorist threats emerge in the liberated territories.