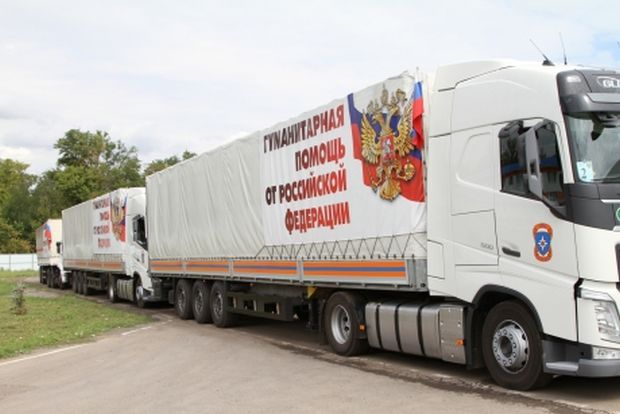 Photo from mchs.gov.ru
Another convoy of trucks that the Kremlin says contains humanitarian aid to the war-torn region has left Russia for the occupied Donbas, marking a 76th such deployment.
According to the Russian civil defense and emergency ministry, one part of the convoy is heading toward Donetsk, while another one – to Luhansk.
It is alleged that the convoy consists of over 40 trucks that are allegedly supposed to deliver "more than 400 tonnes of humanitarian goods, including children's food kits, educational literature and medical equipment" to residents of Donbas.
Read alsoRussian-led forces mount 80 attacks on Ukraine troops in Donbas in past day – JFO centerAs UNIAN reported earlier, Russia has been sending  the so-called "humanitarian convoys" to the zone of hostilities in Donbas since August 2014. Ukrainian customs and border guards are not allowed to inspect the said trucks.
The Ukrainian side claimed there was evidence that the convoys were used as a decoy to supply militants with weapons, ammunition and anti-tank grenades.
The Ministry of Foreign Affairs of Ukraine has repeatedly demanded that the Russian Federation stop violating Ukraine's sovereignty under the pretext of delivering the so-called "humanitarian aid."