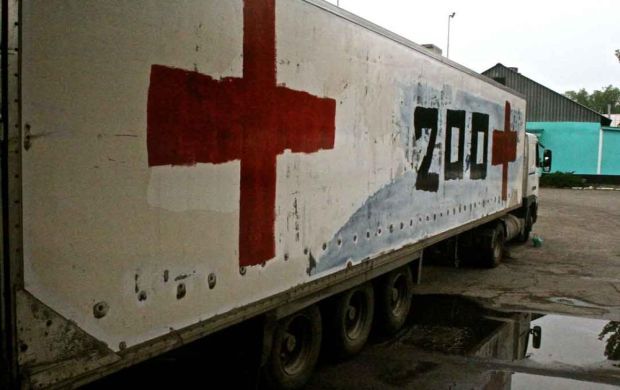 The vehicle was seen on May 12 / Photo from news.vice.com/Harriet Salem
The OSCE Observer Mission based at the Russian checkpoints of Gukovo and Donetsk has seen a funeral service vehicle coming from Russia to the occupied Donbas, eastern Ukraine.
"On 12 May at 18:55 a funeral service vehicle arrived at the Gukovo BCP [Border Crossing Point] from the Russian side and crossed quickly into Ukraine. The same day at 20:42, the vehicle returned to the Russian Federation," the OSCE said in its weekly update published on May 15, 2018.
An observer team (OT) could not ascertain whether it carried a coffin or not, the OSCE said.
What is more, the OTs observed ambulances on three occasions at the Donetsk BCP during the reporting period.
Read alsoBellingcat identifies Russian officers, militants as perpetrators of January 2015 Mariupol artillery strike
"On two occasions, on 9 and 14 of May respectively, an ambulance with Russian Federation registration plates entered the BCP from the Russian Federation, before returning less than one hour later without crossing the border. On one occasion, on 14 of May at 01:56, one ambulance with 'LPR' ['Luhansk People's Republic] plates entered the BCP from Ukraine, underwent border formalities and crossed into the Russian Federation. The OT was able to observe one paramedic and one woman in civilian clothes in the vehicle," it said.
According to the OSCE, at 09:56 on May 10, at the Donetsk BCP, a convoy of six vehicles, four civilian cars and two police escorts arrived from the Russian Federation. "The vehicles underwent border formalities and crossed to Ukraine at 10:20. One of the police cars went back to the Russian Federation immediately. The OT could observe passengers in civilian clothes. During the convoy crossing, Russian Federation border guards stopped traffic inside the BCP," it said.