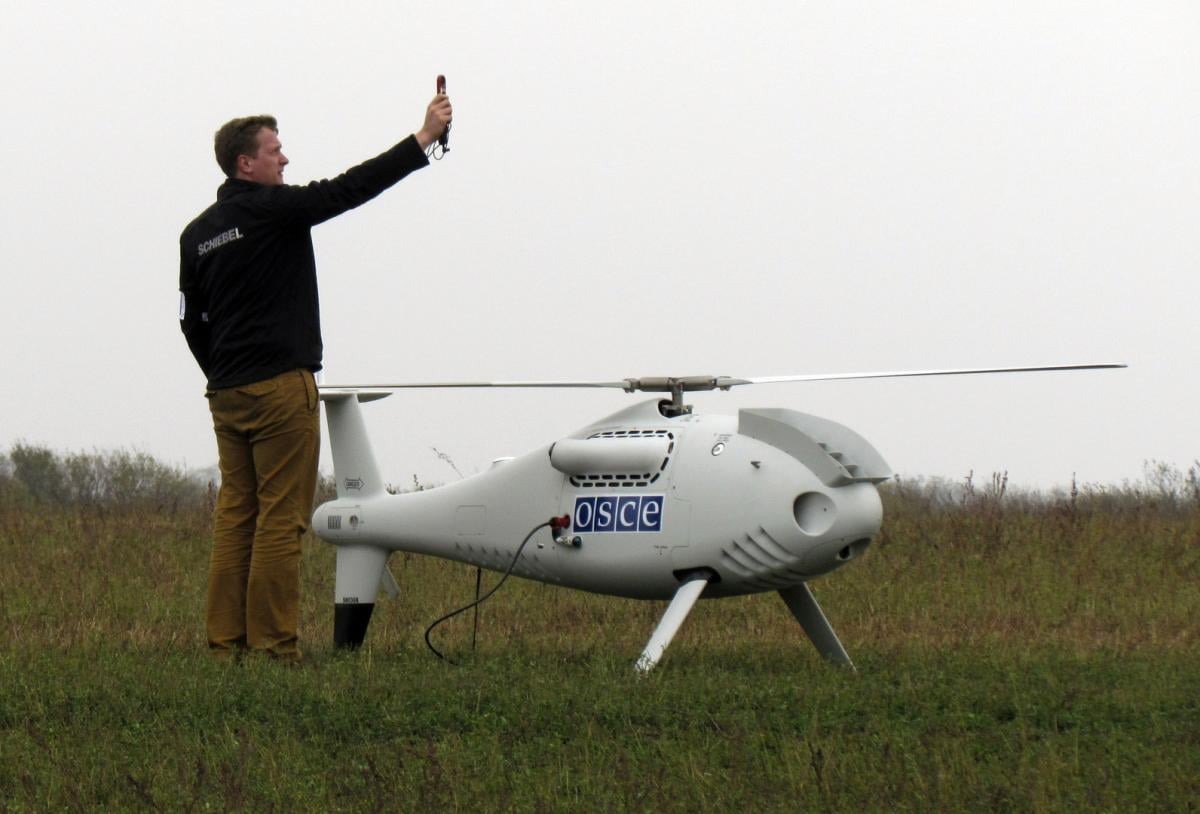 REUTERS
Russian-controlled militants fired from a machine gun on a Special Monitoring Mission's UAV that spotted military equipment which had not been withdrawn in breach of Minsk agreements.
"Machine gun rounds were fired in the direction of an SMM long-range unmanned aerial vehicle (UAV)," the OSCE SMM daily spot report reads.
In particular, on the evening of July 18, an SMM long-range UAV "spotted a PK machine gun (7.62mm) with one person behind it and three people around in the yard of a factory in Khrustalnyi (formerly Krasnyi Luch, non-government-controlled, 56km south-west of Luhansk) and recorded the machine gun opening fire towards the UAV."
The UAV was not damaged in the incident.
It was reported that the SMM continued to monitor the withdrawal of weapons in implementation of the Memorandum and the Package of Measures and its Addendum.
"In violation of withdrawal lines in a non-government-controlled area, on 18 July, an SMM long-range UAV spotted 17 multiple launch rocket systems (MLRS) (BM-21 Grad, 122mm) in and near Khrustalnyi," reads the spot report. "Beyond withdrawal lines but outside designated storage sites in non-government-controlled areas, on 18 July, an SMM long-range UAV spotted a self-propelled howitzer (2S1), 14 towed howitzers (2A65 Msta-B, 152mm) and two tanks (one T-80 and one undetermined) near Khrustalnyi. On 19 July, the SMM saw five towed howitzers (D-30 Lyagushka, 122mm) and a self-propelled howitzer (2S1 Gvozdika, 122mm) inside a training area near Myrne (28km south-west of Luhansk)."
Read alsoRussia ignoring proposals to allow OSCE access to 25 km zone closed to observation at border with Ukraine - General Staff
The SMM observed weapons that could not be verified as withdrawn, as their storage did not comply with the criteria set out in the October 16, 2015, notification from the SMM to the signatories of the Package of Measures on effective monitoring and verification of the withdrawal of heavy weapons.
"In areas of Donetsk region outside government control, the SMM saw two towed howitzers (D-30) present and noted that 11 MLRS (BM-21) and eight anti-tank guns (MT-12 Rapira, 100mm) were again missing," the report reads. "The SMM revisited a heavy weapons permanent storage site in an area of Luhansk region outside government control whose location corresponded with the withdrawal lines and noted that seven towed howitzers (D-30) remained missing."