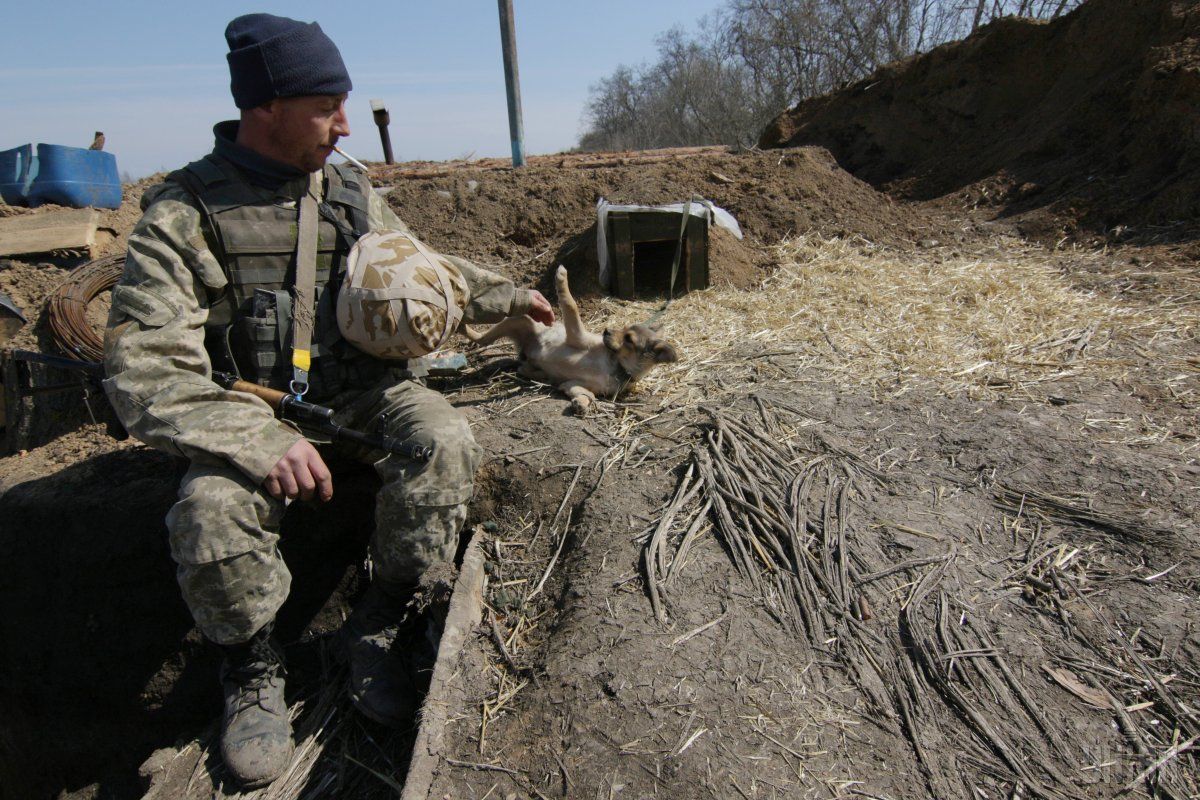 Photo from UNIAN
As the war in eastern Ukraine rages on, so too does Russia's invasive electronic warfare — and it's changing how war is fought by sending threats to individual soldier's phones, and those of their families.
Since the war began in 2014, Russian-backed militants have repeatedly employed all kinds of electronic and cyberwarfare tactics against Ukrainian troops, according to Business Insider.
Although Russia's use of electronic warfare was limited during its 2008 invasion of Georgia, Russian-backed separatists, who are funded by the Kremlin and at times commanded by Russian troops, have used it proficiently in the Donbas, a section of southeastern Ukraine where the war is fought.
Russian-backed militants are "adept at identifying Ukrainian positions by their electrometric signatures," U.S. Army Col. Liam Collins wrote in late July.
They "use unmanned aerial vehicles (UAVs) and ground systems to conduct electromagnetic reconnaissance and jamming against satellite, cellular and radio communication systems along with GPS spoofing and electronic warfare attacks against Ukrainian UAVs."
Read alsoReports suggest Russia engages in psychological warfare in Avdiyivka - media
Russian-backed militants are adept at psychological warfare tactics too, often in the forms of threatening text messages from cell-site simulators meant to shatter morale.
"Murderer from UAF [Ukrainian Armed Forces]. The East won't forgive you and the West won't remember you!" another text Ukrainian troops at a checkpoint received in November 2015 said.
But sometimes, the separatist texts are disguised as being sent by Ukrainian troops themselves and meant to sow confusion and discord.
"The company commander ran away to Kramatrosk. It smells like trouble. Tonight we are also leaving," one text Ukrainian troops in Debaltseve received in February 2015 read.
Other times, the texts appear to come from the Ukrainian government in Kyiv.
"Balance of your account was reduced on 10UAH. Thank you for supporting ATO," read one text that Ukrainian troops have received.
UAH is the Ukrainian currency, and ATO is the Anti-Terrorism Operation (now called Joint Forces Operation), which commands Ukrainian forces and law enforcement in the Donbas.
In 2017, the Associated Press compiled a spreadsheet of several such Russian-backed separatist texts that have been sent since the war began.
Russian hackers were reportedly even tracking and targeting Ukrainian artillery units with a once popular Android app between 2014 and 2016.
Militants took their efforts to a whole new level, sometimes coupling the texts with artillery strikes and even bringing the families of Ukrainian troops into it.
"In one tactic, soldiers receive texts telling them they are 'surrounded and abandoned,'" U.S. Army Col. Liam Collins wrote.
Read alsoInfowars: Russian TV channels shooting staged scenes with "Ukrainian Army weapons" near Debaltseve, intelligence says
"Minutes later, their families receive a text stating, 'Your son is killed in action,' which often prompts a call or text to the soldiers," Collins wrote. "Minutes later, soldiers receive another message telling them to "retreat and live," followed by an artillery strike to the location where a large group of cellphones was detected."
"Thus, in one coordinated action, electronic warfare is combined with cyberwarfare, information operations and artillery strikes to produce psychological and kinetic effects," Collins added.
Collins suggests that U.S. "garrisons" should teach their troops more land navigation and map reading so that they don't have to rely on GPS if it has been compromised.
Read alsoRussia employing "psychological warfare" tools targeting phones of Ukraine troops
He also suggests that U.S. forces should use less technology at times and become more comfortable deploying small units without knowing every little move they make.
He lastly advises that tactical operation centers should move antenna farms far away from their location or bombard the area with false signals, that the military should teach troops about electronic warfare in the beginning of training, and continually "develop and refine [its] electronic warfare capabilities."