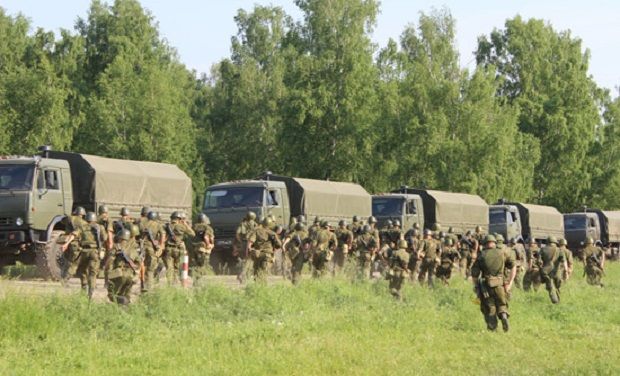 Photo from Russia's Defense Ministry
The Russian Federation uses its largest Vostok 2018 war games to bring Uragan multiple rocket launcher systems closer to the border with Ukraine.
"Russia's top brass is increasing the number of troops of the Russian Armed Forces stationed close to the border with Ukraine. In particular, certain military units equipped with military hardware, including artillery units with Uragan multiple rocket launcher systems, have been relocated under the guise of Vostok 2018 maneuvers from the eastern regions of Russia to areas of deployment along the Ukrainian border," Spokesman for the Ukrainian Defense Ministry Dmytro Hutsuliak said.
The information was provided by the Main Directorate of Intelligence of the Ministry of Defense of Ukraine, according to an UNIAN correspondent.
Read alsoDonbas update: Ukraine reports 2 WIA's amid 38 attacks in past day
Russian military field camps have been deployed in the said areas, they are used as the basis to form special detachments to provide covert rotation and strengthen the advanced positions of terrorist units.
"Certain detachments of the so-called 'recruits' are formed solely from residents of Dagestan and Chechnya. Simultaneously, the so-called [Russian] 'Cossack detachments' are being created, some of them have already arrived to join the 1st Army Corps of the occupation forces," he said.
Ukrainian intelligence reports also inform that Russians use the war games to bring new weapons, engineering equipment and other assets closer to the border with Ukraine for further transfer to the units and subdivisions of Russia's hybrid military forces in occupied Donbas, eastern Ukraine.