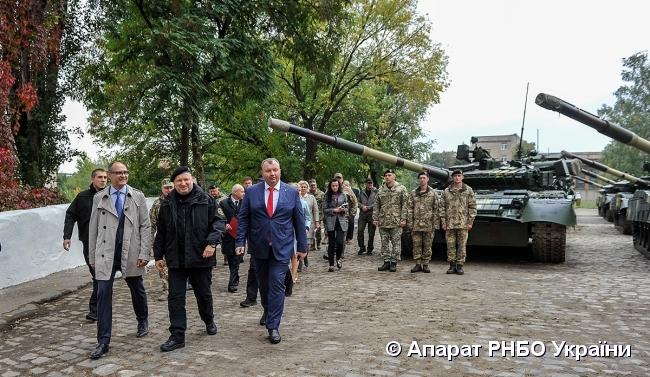 Oleksandr Turchynov (center) / Photo from NSDC
Secretary of the National Security and Defense Council of Ukraine (NSDC) Oleksandr Turchynov says Ukraine plans to strengthen the Armed Forces' armored potential.
"Now the state defense order is being formed. Of course, we are planning a serious program to strengthen the armored potential of our Armed Forces," he told journalists at an official event to hand over military hardware from Kharkiv-based enterprises of Ukraine's state-run military-industrial concern Ukroboronprom to the Armed Forces on October 3.
Read alsoNSDC: Ukraine ready to consider possibility of joint production of armored vehicles with Thailand
In particular, the military received 16 T-64 and T-80 tanks, which were repaired at Kharkiv Armored Plant, and five BTR-4 armored personnel carriers (APCs), manufactured at Kharkiv-based Morozov Machine Building Design Bureau, a state-owned enterprise.
Moreover, on display were the BTR-4MV1, which incorporates NATO design solutions, the Oplot main battle tank, the Verba multiple rocket launcher system, the new Hrim ("Thunder") mobile short-range ballistic missile system, which is now undergoing tests, and other military equipment.