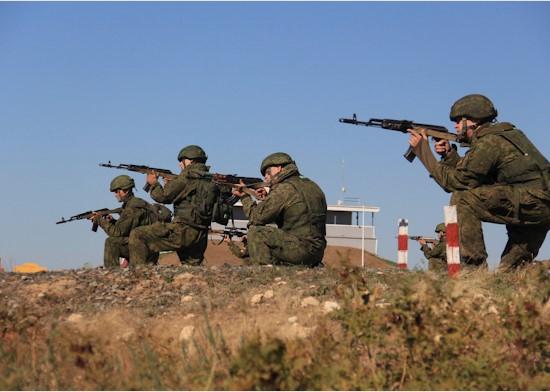 mil.ru
Ukraine's Representative to the OSCE and UN in Vienna, Ihor Prokopchuk, addressing the OSCE Permanent Council on Thursday said Russia was attempting to seize more territory in Ukraine amid their ongoing violations of Minsk agreements that had been designed to provide a peaceful settlement to the Donbas conflict.
"Russia, instead of pulling out from Ukraine territory, again attempts to seize larger areas in violation of Minsk agreements: OSCE SMM registers new sets of trenches seen for the first time, up to 1km further west than previously observed positions of Russian proxies near Stavky and Horlivka," Prokopchuk said, according to the Ukrainian mission's tweet.
The Ukrainian diplomat also strongly condemned Russia's plans to hold "illegal and fake" so-called "elections" in the occupied territories of Donetsk and Luhansk regions Nov 11.
Read alsoOSCE spots amassing of heavy weapons at five training areas in occupied Donbas
"We strongly condemn plans of Russia to hold illegal and fake so-called "elections" in the occupied territories of Donetsk and Luhansk regions of Ukraine in an attempt to create an air of legitimacy around new appointments in its occupation administration," he said.
Besides, the Ukraine official said that Russia continued to hinder the efforts of the special monitoring mission's observers in Donbas.
By downing an OSCE SMM long-range UAV deep inside Russia-occupied territory of Donbas near Russia-controlled segment of border, Russian armed formations have diminished the OSCE monitoring capability that was an "obvious target of perpetrators," the diplomat stressed.
Read alsoThree Ukrainian soldiers wounded in Donbas in past 24 hours
The Ukraine mission encouraged the OSCE Conflict Prevention Centre "to strengthen efforts aimed at enhancing technical capabilities of OSCE SMM to monitor situation on the ground, especially in the areas of Ukraine temporarily occupied by Russia, where the Mission has no or very restricted access."
As UNIAN reported earlier, on October 21, OSCE SMM's then-deputy chief Alexander Hug said that the mission's UAVs discovered near Stavky and Horlivka a network of trenches that stretched further westward, thus shrinking the distance between the warring parties. At one location, the distance decreased to just 1 km.
Also, the Ukrainian side to the Joint Control and Coordination Center stated that the occupation forces were amassing a significant number of heavy weapons, breaching the withdrawal lines.