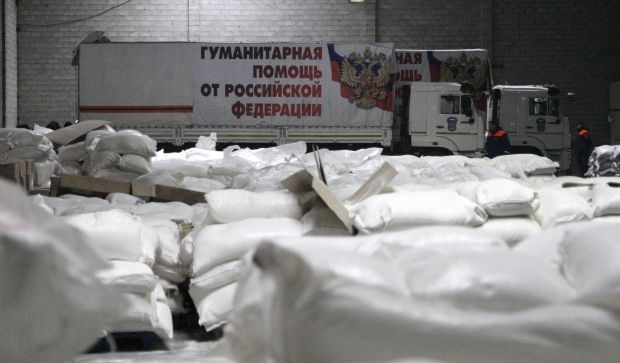 REUTERS
A new truck convoy of Russia's Emergency Situations Ministry has arrived in Donbas, having brought allegedly "humanitarian" aid with goods for children and medicines.
"The 83rd humanitarian convoy of the Emergency Situations Ministry has reached its destination. Humanitarian aid is being unloaded at drop-off stations in Donetsk and Luhansk regions," the ministry said on Thursday, November 22.
Read alsoOSCE: 79th Russian convoy crossed into Ukraine, returned through Donetsk Border Crossing Point
The ministry claims that the entire cargo will be distributed among socially significant facilities and residents of Donetsk and Luhansk regions.
The ministry's trucks have brought over 400 tonnes of "humanitarian" aid, namely baby food sets, medicines, and medical products.
As UNIAN reported earlier, Russia has been sending "humanitarian" aid to Donbas since August 2014. More than 70,000 tonnes of such aid has already been supplied.
Ukrainian customs officers and border guards are not allowed to examine "humanitarian" trucks. Moreover, the Ukrainian officials claim that they have proof that the "humanitarian" cargo included, among other things, weapons, ammunition and anti-tank grenades.
Ukraine's Ministry of Foreign Affairs has repeatedly called on Russia to stop the violation of Ukraine's sovereignty by supplying the so-called "humanitarian" assistance.