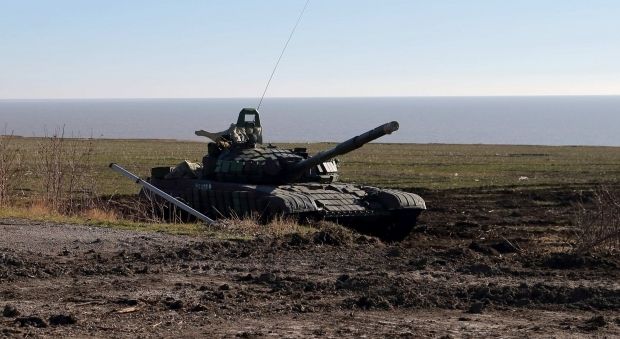 REUTERS

ATO Spokesman Andriy Lysenko told UNIAN that earlier reports that militant tanks had begun to attack outlying towns around Mariupol were incorrect.
"The militants are carrying out an intensive bombardment of the positions of [Ukrainian] forces in the areas around Mariupol, and part of the fire is coming from artillery and tanks," Lysenko said.
However, he said the artillery attacks couldn't be termed an assault on the city, adding that the militants weren't yet capable of launching such an assault.
Earlier, MP and coordinator of the Interior Ministry's Kyiv-1 special patrol police battalion Yevhen Deidei wrote on his Facebook page that militants had launched an attack on the suburbs of the city with tanks.
According to Deidei, after Donetsk militant leader Oleksandr Zakharchenko announced his intention to take Mariupol, the militants began tank attacks on areas surrounding the southern port city.
"I don't except that the active attacks of separatists in other regions of the Anti-Terrorist Operation are a diversionary tactic. We are hearing a great thunder from the village of Talakivka. [But] We are optimistic! Mariupol is Ukraine! There's no other way!" Deidei said.
The militant leader Oleksandr Zakharchenko at a press conference on Friday said his forces were capable of launching attacks on Ukrainian forces on three different fronts, and that his forces intended to occupy the whole of Donetsk region. About half of Donetsk region is still under the control of the Ukrainian government.
The fighting in Ukraine has worsened significantly in recent weeks, after Russian-backed militants launched a determined attempt to take over Donetsk airport, which had been under the control of Ukrainian forces since late May.
The militants forced Ukrainian troops to abandon the new terminal of the airport after fierce battles left the structure wrecked and indefensible, according to Kyiv.
Days later, the militants in Luhansk launched another offensive, to the north and west of the city of Luhansk, taking over one Ukrainian checkpoint and repeatedly attacking another. 
Ukrainian troops claim to have forced the militants back from the first checkpoint, but say they are not resuming their positions there, as the defenses have been destroyed. 

(Note: The time stamp on this article is from the original posting. The update was issued at 1731 Kyiv time, January 23, 2015)