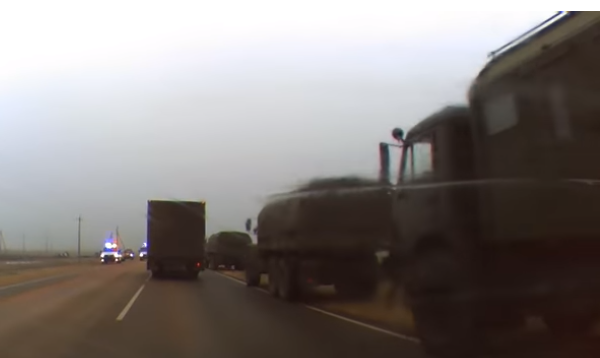 Screenshot
A new convoy of Russian military hardware was spotted moving in the north of occupied Crimea on December 20.
Read alsoAnother convoy of Russian military hardware spotted moving across Kerch Strait Bridge (Video)
A journalist of the Krym.Realii online media outlet spotted a convoy near the village of Pervomaiske, it was moving toward the town of Armyansk. The convoy consisted of trucks, armored personnel carriers, artillery cannons, and a field kitchen. Its movement was suspended due to an accident involving one of the trucks.
Another column of Russian military hardware was deployed near the Crimean Titan plant, a few kilometers from the road.
Speaker for the State Border Guard Service of Ukraine Oleh Slobodyan told journalists the border guards were monitoring the situation.
"I can only confirm that we are monitoring the situation. But we cannot comment so far since all this information is being summarized and processed as part of a joint action plan," he said.
The Ministry of Defense of Ukraine declined to comment on the situation and offered to send an information request.