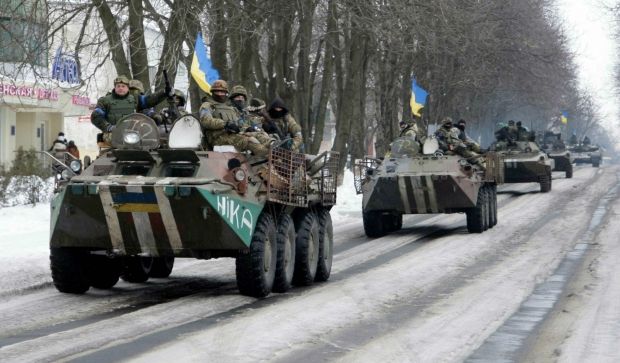 REUTERS
The resolution has already been signed by Ukrainian Prime Minister Arseniy Yatseniuk, according to the government press service.
 "Everyone who takes part in the anti-terrorist operation will receive twice the monetary reward … if they are [inside] the territory of the anti-terrorist operation. For each day of their participation in combat, that is, in the implementation of a combat mission, each serviceman, from private to general, will get an additional UAH 1,000," Yatseniuk said.
 Additional rewards are envisaged for the successful implementation by combat units of combat operations to destroy the military equipment of Russian-backed militants. The amount of these payments is pegged to the minimum wage, reads the resolution: "In the case of the successful performance of a military task, a unit will receive an additional UAH 365,000 UAH, a regiment UAH 243,000 UAH, a battalion UAH 121,000 UAH, and a company UAH 60,000."
In addition, the prime minister said that for every destroyed combat aircraft of Russian-backed militants there will be a payment of UAH 121,000, for a multiple launch rocket system UAH 60,000, for a tactical missile system UAH 54,000, for a tank UAH 48,000, for artillery units and infantry vehicles UAH 42,000 UAH, and for each portable anti-aircraft missile system UAH 30,000.
The resolution also contains a "supplementary list of military equipment of Russian-backed fighters, in relation to which additional remuneration for its destruction is to be paid to Ukrainian soldiers, border guards, the employees of Ukrainian Security Service, State Security Department, the State Service for Emergency Situations."
Yatsenyuk also stated that he had instructed Ukrainian Minister of Justice "to put the order in force as of January 31."