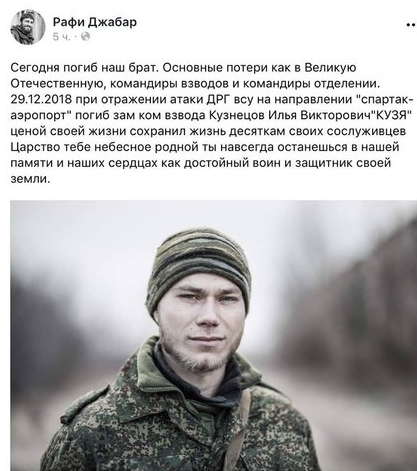 Screenshot
Russian mercenary Ilya Kuznetsov, nom de guerre "Kuzya," was eliminated near ruined Donetsk Airport on Saturday, December 29.
"Ilya Viktorovich Kuznetsov's hunt for ukrys [a derogatory word for a Ukrainian widely used by pro-Russian forces in Donbas] is over," pro-Ukrainian volunteer from Donetsk Vasya Vetrov said on Facebook on December 30.
According to Rafi Dzhabar, nom de guerre "Abdulla," a citizen of Afghanistan who has been fighting against the Ukrainian army on the Russian side in Donbas, Kuznetsov was a deputy platoon commander.
Read alsoNumber of enemy attacks on Ukraine in Donbas grows to six on first day of New Year truce
Kuznetsov, born in Moscow in 1987, lived in the town of Barysh (Ulyanovsk Oblast, Russia), which is 1,300 km from the Russian-occupied city of Donetsk.
Dzhabar claims Kuznetsov was killed by a Ukrainian special forces group near the village of Spartak not far from ruined Donetsk Airport.
At the same time, according to the Ukrainian Joint Forces Operation's headquarters, no fighting in that area was reported on December 29.