Yarosh claims Donetsk explosion caused by strike on arms depot
12:08, 09 February 2015
War
The huge explosion that rocked Donetsk late on Sunday was caused by Ukrainian artillery hitting a militant weapons depot, MP and Right Sector party leader Dmytro Yarosh has written on Facebook.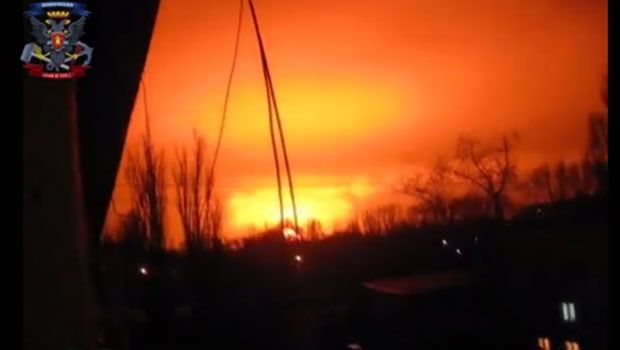 Screenshot from militant television channel
The blast occurred at around 2250 local time in Donetsk, and in many parts of the city, citizens felt the shockwave from the explosion and saw the glow of a huge fireball rising into the sky.
"The explosion caused panic in Donetsk," Yarosh wrote.
He said that according to preliminary reports, a Ukrainian artillery strike had destroyed 20 Grad multiple launch rocket systems, about 30 vehicles, and killed about 200 militants. 
Local and foreign journalists in Donetsk say the explosion occurred at a chemicals plant in the city.
If you see a spelling error on our site, select it and press Ctrl+Enter