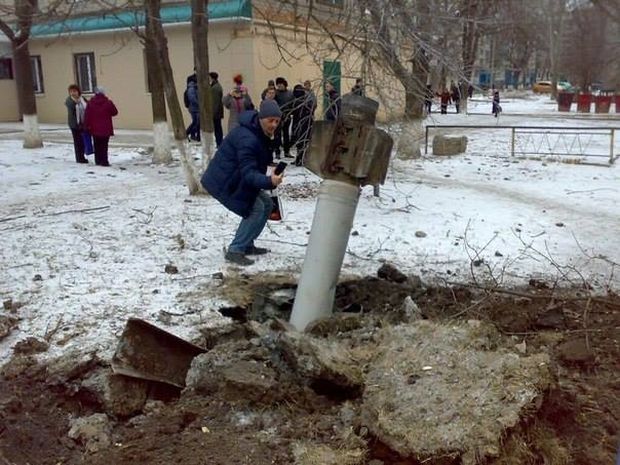 Photo from facebook.com/bigredaktor
The headquarters confirmed the report, and said that the militants used Smerch multiple launch rocket systems.
"The target of the attack was the airfield and surrounding streets. The information is being clarified," Abroskin said.
At the same time, the residents of Kramatorsk reported in social networks about civilians being killed and wounded. A report from Donetsk Regional Administration said that three people had been killed and 15 injured in the attack. Later reports have put the death toll at seven, with 21 people wounded.
The press center of the Anti-Terrorist Operation has said that the attack occurred at approximately 1230.
"According to preliminary information, the militants fired Smerch multiple launch rocket systems from Horlivka. The shells hit the airfield and a private [housing] sector on the outskirts of Kramatorsk," according to the report of the press center.
"It is worth noting that the Tornado multiple launch rocket systems are used by the Russian armed forces. The scale of the destruction and losses are being clarified," the report reads.
Photographs and videos from the scene show several dead people in a residential area. In one photograph, the end of an unexploded Smerch rocket can be seen sticking out of the ground in a street in Kramatorsk.
There is also photographic evidence that cluster munitions were used in the attack, with a rocket cluster munition payload structure visible in one photograph and damage seen to a car pictured at the site of the attack being consistent with this.
According to witnesses at the scene, and harrowing video of the attack in progress taken from a building nearby the area where the rockets impacted, the attack was launched from the south-east, in the direction of militant-held parts of Ukraine.
The Smerch system has a maximum range of 90 kilometers. The government's Anti-terrorist Operation press center said the rockets were launched from militant-held Horlivka, which is around 90 kilometers southeast of Kramatorsk. It said the weapons fired were Smerch rockets.
The use of cluster munitions is banned under an international treaty, but neither Ukraine nor Russia are signatories.
VIDEO: One woman caught the moment of the attack on video