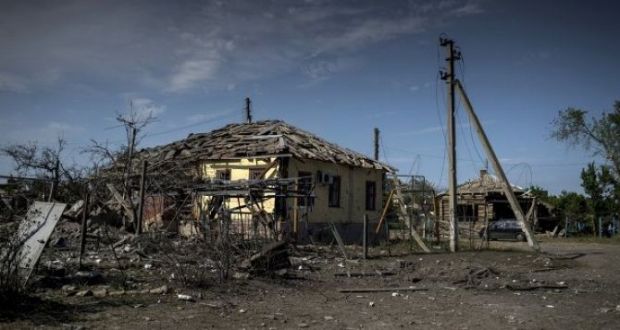 Photo from cxid.info
"Several streets in the village are occupied by the terrorists, [but] most of the area, including the village council, is controlled by our military," Moskal said.
"In Chernukhino a strict regime [prison] colony is located where in peace times there were about a thousand of prisoners convicted for serious crimes. Most of the prisoners were taken away before the beginning of intense hostilities, but 375 people were left. Over the past few days the colony was repeatedly hit by artillery shells."
According to Moskal, the prison colony fence was damaged in many places, infrastructure and buildings destroyed, and many prisoners have fled in different directions.
"Local residents who remained in Chernukhino are sheltering in basements," Moskal said.
"There are reports of casualties among both military and civilians, but it is not possible yet to officially confirm this information. The locals want to escape from this hell, but they cannot. Today everyone is talking about Debaltseve, although the situation in Chernukhino is not better, maybe worse." 
According to Moskal, in order to save people a humanitarian corridor and guaranteed ceasefire must be put in place. Civilians should be evacuated from the village as soon as possible, otherwise they may die, he said.
"Currently, Chernukhino, without exaggeration, is a real humanitarian disaster," Moskal said.
"The regional administration and I personally are doing our utmost to save people, we are still waiting for the promised humanitarian corridor. Further developments will be reported later."